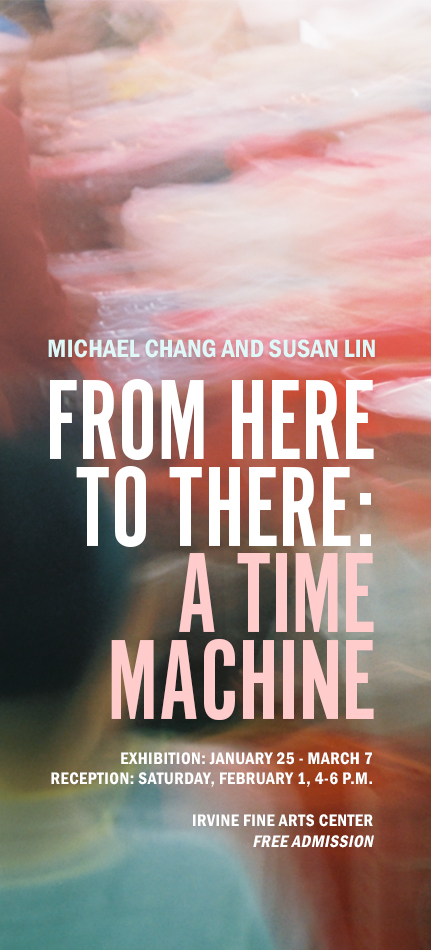 From Here to There: A Time Machine
Artists: Michael Chang and Susan Lin
Exhibition: January 25–March 7, 2020
Opening Reception: Saturday, February 1, 4–6 p.m.
Location: Gallery 1
From Here to There: A Time Machine presents new collaborative multimedia works by Michael Chang and Susan Lin that explore notions of ancestry, cultural time, and the precariousness of memory. Using the entirety of Gallery 1 of the Irvine Fine Arts Center, the artists create an immersive environment that couples technologies of the past — ripe nostalgic and aspirational undertones — with videos and images that function as anecdotes about longing for a sense of home and the tension between familial and cultural myths and realities. 
Image credit (left): Susan Lin, untitled, 2018-2019
A Trace is Not a Map
Artists: Adriana Baltazar, William Camargo, and Daniela Delgadillo Garcia
Exhibition: January 25–March 7, 2020
Opening Reception: Saturday, February 1, 4–6 p.m.

Location: Gallery 1
Employing photography, painting, sculpture, and sound-based artworks, the artists featured in A Trace is Not a Map build bridges between viewer and spectator – insider and passersby. Their work explores the complexity of community and family, resisting oversimplifications about identity in favor of presenting a nuanced spectrum of experience and being. 
Image credit (right): Adriana Baltazar, Arrangement 1, 2018, clay on watercolor paper, 8.5" x 11"
Irvine Fine Arts Center Hours:
Monday–Thursday: 10 a.m.–9 p.m.
Friday: 10 a.m.–5 p.m.
Saturday: 9 a.m.–5 p.m.
Closed on Sundays
Admission, parking, and opening reception are free. The Irvine Fine Arts Center is located inside Heritage Community Park at 14321 Yale Ave. For more information on our exhibitions, visit irvinefinearts.org or call 949-724-6880.