A Message from the Chief of Police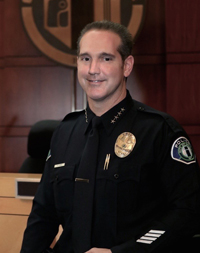 Welcome to the Irvine Police Department (IPD) webpage. As you know, the City of Irvine is a wonderful place to live, learn, work, and worship, and we are grateful as your police department for your continued partnership as we work together to maintain a safe, world-class community.
Our website is designed to share information with you about available resources and the work we're doing here at IPD as we strive to provide you with the highest level of quality service.
One of the best things about Irvine is that we are dynamic and diverse. We are made up of people from cultures and countries all over the world, but this also means that various community groups may have specific and unique needs. We are here to do all we can to help address your needs.
It doesn't matter where you come from, your lifestyle, what language you speak or what religion you practice, we are your police department and we are here for you.
We hope the information on this site is helpful and valuable, and we look forward to continuing our strong relationships with you, our community.
Mike Hamel
Chief of Police