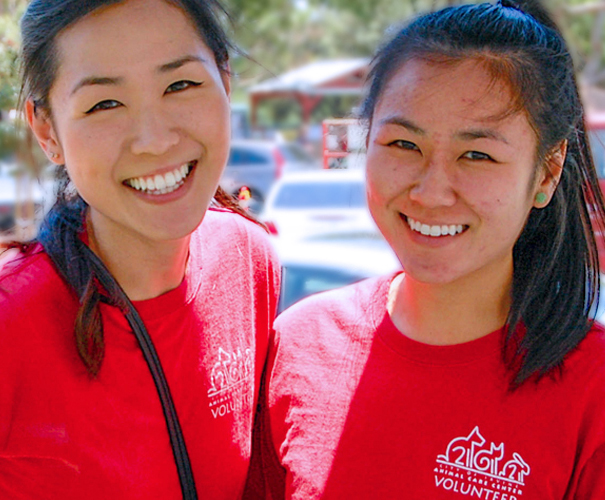 The center is thankful to have the support of dedicated volunteers. Volunteers assist staff in implementing the center's programs and goals. Volunteers contribute to a variety of important tasks, including keeping the facility clean, helping visitors, providing animal care, and socializing adoptable animals. Areas of service include cat, dog, rabbit, foster care, animal transport, and community events/outreach.
General Volunteer Requirements
To volunteer at the center, one must be:
At least 18 years old.
Able to commit to a weekly, assigned shift in animal care or to at least two foster assignments per year.
Available to make a one year commitment.
Able to email and use internet well.
Able to support staff in meeting the center's Mission and Goals.
Not volunteering for a court-mandated reason.
Comfortable interacting with people and animals.
Foster Volunteer Additions
Successful foster volunteers also need to provide the following:
At least two hours per day to care for the animals, most often for four to six weeks.
A quiet and secure place inside the home that is separated from family pets.
Ability to transport animals to the center for routine veterinary care.
A willingness to implement basic behavior training (provided).
Flexibility to accept animals on short notice.
To learn more, visit our Foster Care Program page. ​
Onsite Animal Care Opportunities
​There are no open onsite animal care volunteer opportunities at this time. You may check back periodically or follow us on social media for future recruitment announcements. If you would like be notified of the next volunteer recruitment, join our interest list by sending an email to iaccinterestlist@cityofirvine.org. 
Need More Flexibility?
Here are other ways you can help the animals:
Our Super Pet Adoption (June) and Home for the Holidays Adoption Fair (December) need single-day volunteers ages 18 and older. Check our Events page for more information.
Collect towels, newspaper, and cardboard paper towel tubes to drop off for the animals during center hours.
Make and donate:
Visit our social media outlets at the bottom of this page and share our posts.
For additional volunteer opportunities with the City of Irvine, visit our Volunteer Opportunities web page. 
Please let us know of your interest by sending an email to iaccinterestlist@cityofirvine.org.
 
---
Follow the Irvine Animal Care Center on Social Media: