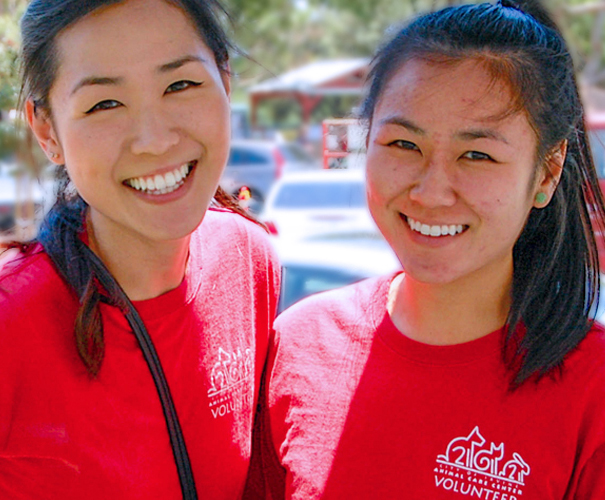 The center is thankful to have the support of dedicated volunteers. Volunteers assist staff in implementing the center's programs and goals. Volunteers contribute to a variety of important tasks, including keeping the facility clean, helping visitors, providing animal care, and socializing adoptable animals. Areas of service include cat, dog, rabbit, foster care, animal transport, and community events/outreach.
Qualifications to Volunteer in Animal Care
To volunteer in animal care, one must be:
At least 18 years old.
Able to commit to a weekly, assigned shift.
Available to make a one year commitment.
Able to email and use internet well.
Able to demonstrate the Essential Capabilities needed to safely interact with animals.
Not volunteering for a court-mandated reason.
Comfortable interacting with people and animals.
Foster Volunteer Additions
Successful foster volunteers also need to provide the following:
At least 2 hours per day to care for the animals, most often for 4–6 weeks.
A quiet and secure place inside the home that is separated from family pets.
Ability to transport animals to the center for routine veterinary care.
A willingness to implement basic behavior training (provided).
Flexibility to accept animals on short notice.
To learn more, visit our Foster Care Program page. 
Current Volunteer Opportunities
Rabbit Care
Volunteers are integral to the care of adoptable animals during their stay. Volunteers wash and fold pet bedding in our laundry; clean and disinfect dishes, toys, and equipment using a dishwasher or scrub brush and sprayer; and control the spread of harmful disease by disinfecting kennels, floors and walls, counter tops, etc. Rabbit Care volunteers help socialize the rabbits and provide enrichment. 
Be able to lift and carry at least 25 lbs.
Be able to bend and stoop to reach into cabinets, shelves, and kennels at floor level and reach shelves up to 6' high using a step stool as needed.
Should not have any known allergies to rabbits, cats, or hay.
Transport Volunteer
Transport Volunteers are needed to drive animals from the Irvine Animal Care Center to rescue organizations, foster care, and/or wildlife rehabilitation centers in Orange County using their own vehicle. The position does not include animal handling. Transport Volunteers must be at least 21 years old, pass a Live Scan background check (free), have proof of a current driver's license and auto insurance, as well as access to a vehicle. 
Respond to same-day requests for transport via text message from 2-4 times per month.
Will be credited with volunteer time and may track mileage for personal tax purposes.
Be able to bend, kneel, and squat in order to pick up an animal carrier.
Be able to lift 30 lbs. 
Large Breed Mama Dog with Puppies 
The Irvine Animal Care Center is in need of foster caregivers with big dog experience and a comfort level caring for a mama dog (weighing 45–75 lbs.) in addition to her litter of puppies. A typical litter is 5-8 puppies. 
Experience and ability to walk a strong dog.
A warm, quiet, secure place inside the home that is separate from all family pets.
Once the puppies begin to wean, they will need space where they eat and sleep plus space for going potty.
Transportation to the center every two weeks for foster appointments.
Consistent care and careful observation for up to six weeks.
Weaning Babies 
Weaning puppies and kittens require the around-the-clock care, but on a schedule that's less intense than Bottle Babies. Foster volunteers take on these duties: 
Syringe feeding every four hours for a week or two, as/until the animals transition to eating regular food.
A warm, quiet, secure place inside the home that is separate from all family pets.
Kittens may need initial help learning to use a litterbox. Puppies this age are too young to be housebroken, but ample potty pads are provided.
All weaning babies will need gentle cleaning.
Transportation to the center every two weeks for foster appointments.
Consistent care and careful observation for up to six weeks.
Behavior Foster  
Some animals can become stressed by a shelter environment or need a bit of behavior help before they can be adopted. Behavior fosters provide daily training and a routine to decrease an animal's anxiety, increase their confidence, and make a positive impact on their physical and mental health. Less stress and better manners increases the animal's adoptability.
Follow a customized behavior program to meet the animal's unique needs.
Weekly check-in with Irvine Animal Care Center team by phone or in-person.
Consistent care and active engagement for one to four months.
Mixed breed, mostly medium to large size dogs.
Apartment living may be okay. Yard not required.
Different household types and work schedules can be accommodated.
Please let us know of your interest list by sending an email to iaccinterestlist@cityofirvine.org.
Need More Flexibility?
Here are other ways you can help the animals:
Our Super Pet Adoption (June) and Home for the Holidays Adoption Fair (December) need single-day volunteers ages 18 and older. Check our Events page for more information.
Collect towels, newspaper, and cardboard paper towel tubes to drop off for the animals during center hours.
Make and donate:
Visit our social media outlets at the bottom of this page and share our posts.
For additional volunteer opportunities with the City of Irvine, visit our Volunteer Opportunities web page. 
 
---
Follow the Irvine Animal Care Center on Social Media: