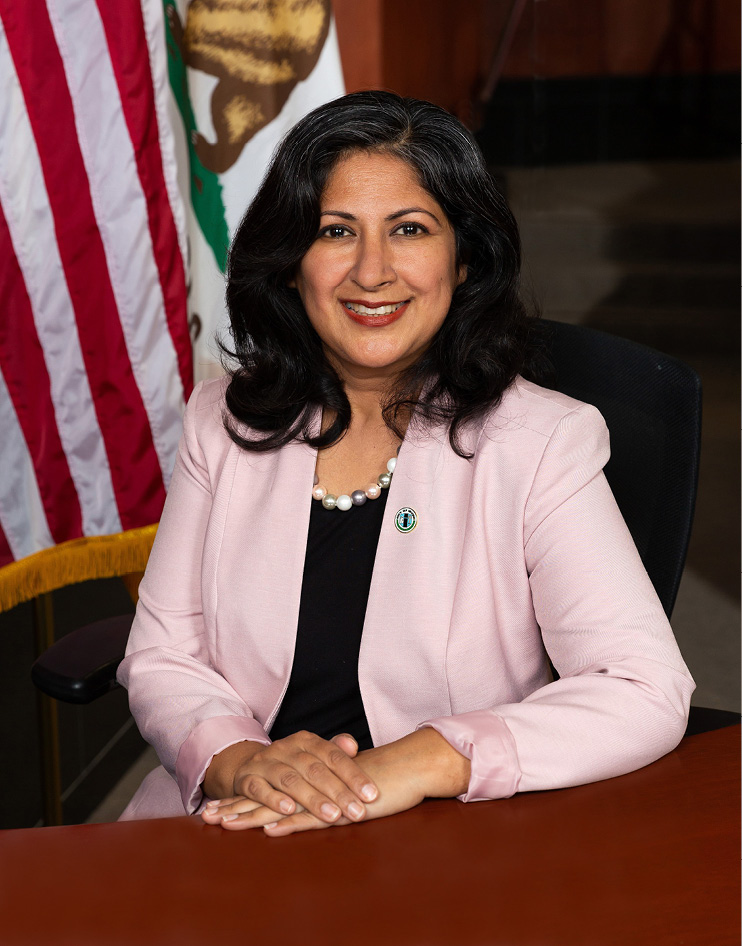 Mayor Farrah N. Khan made history in November of 2020, becoming the 23rd Mayor of Irvine. She not only received the highest number of votes for the position of Mayor in the city's history, but also shattered glass ceilings as the first woman of color to hold the position, and the first Muslim woman to lead a large city in the United States. She was re-elected as Mayor in 2022 to serve her second term. She was first elected to the Irvine City Council in 2018.
Mayor Khan grew up in northern California and began her career in the biotech and innovation industry as a regulatory affairs manager focusing on streamlining complex products and international research. She and her family moved to Irvine in 2004, where her two sons have had the privilege of attending Irvine public schools since kindergarten. She and her husband also serve as Legacy Partners with the Irvine Public Schools Foundation. 
Mayor Khan is focused on ensuring that the City of Irvine is a leader throughout Orange County and California when it comes to innovation and technology, maintaining a safe environment and fiscal stability, combating climate change, and protecting the health and wellness of Irvine's diverse communities.
During her 2 year term as City Councilmember (2018-2020), she initiated and passed the city-wide ban on smoking in public places, initiated the Climate Action and Adaptation Plan, initiated the Transit Vision Study, supported the One Irvine program to rejuvenate older neighborhoods, and established OC's first Community Choice Energy (CCE) agency OC Power Authority. She also served on the Boards of the Irvine Community Land Trust, OC Mosquito and Vector Control, Irvine Barclay Theatre, and OC Library District.
In her first term as Mayor (2020-2022), she initiated several new strategies leading to Irvine becoming the first City in Orange County to spearhead COVID-19 Vaccination Clinics in local neighborhoods and senior centers, established the COVID-19 Task Force and the Business Reopening Task Force with industry experts. In addition, she passed HERO pay for frontline grocery workers, created a new committee focused on Diversity, Equity & Inclusion (under the Mayor's leadership, the City celebrated Mid-Autumn Festival, Juneteenth, Fiesta en Irvine, and Pride in Irvine for the first time in its history), she also spearheaded the Be Well OC mobile response for mental health calls, established the Innovation Council, and adopted a resolution with strategies to support achieving carbon neutrality. During these two years, she also established Irvine as a major city by highlighting its programs and services, which brought US President Biden, US Secretary of Health & Human Services Xavier Becerra, US Secretary of Labor Marty Walsh, and CA Infrastructure Director – former Mayor of LA Antonio Villaraigosa to Irvine. Mayor Khan served on the Boards of Transportation Corridor Agency, OC Power Authority, and Irvine Barclay Theatre.
In her second term as Mayor, she has made progress on the Transit Vision Study with the approval of the Transit Pilot program with a dedicated route to begin later in 2023, she introduced the E-Bike ordinance with IPD, introduced the Eviction Diversion Pilot Program, and supported more affordable housing and extension of expiring HUD units throughout the city. She also spearheaded and approved a Community Workforce Agreement (for local hire and apprenticeship opportunities) and continues to work on finding solutions for homelessness, housing, energy efficiency, social connections, and economic development.  Mayor Khan currently serves on the Boards of OC Transportation Authority, Transportation Corridor Agency, OC Sanitation District, and Irvine Barclay Theatre.
Mayor Khan represents the city on the CA Big City Mayors coalition, League of CA Cities, and US Conference of Mayors.
(rev. 6-20-2023)