The City of Irvine is currently developing a master plan for Heritage Community Park. Opened in 1978, many of the parks original facilities are still being used today. This plan will focus on enhancing the services and facilities provided within the approximately 44-acre community park. Currently, Heritage Community Park offers a variety of activities and supports a range of recreational needs through facilities on-site, which include the Heritage Park Community Center, Irvine Fine Arts Center, Child Resource Center, numerous sports fields, play areas, and picnic areas.
Since 2017, when the funding was set aside to prepare a Master Plan for rehabilitating the park, staff and its design consultant, MIG, have analyzed the site, conducted an extensive community outreach process, and prepared various conceptual alternatives for development of the Master Plan.
At this time, the City is finalizing the development of the Draft Master Plan document. A preferred park alternative concept has been created utilizing feedback received during the community outreach process. Segments of a preliminary draft document are currently under staff review.
In addition, the City has extended project timelines to incorporate and coordinate planning efforts at other properties located immediately adjacent to the park site. Specifically, the Irvine Unified School District (IUSD) is currently planning a state-of-art theater building at Irvine High School. The Orange County Public Library (OCPL) is also interested in modernizing and expanding its facilities in the City. These efforts will be coordinated with the Master Plan process to ensure maximum efficiency and compatibility.
Project Updates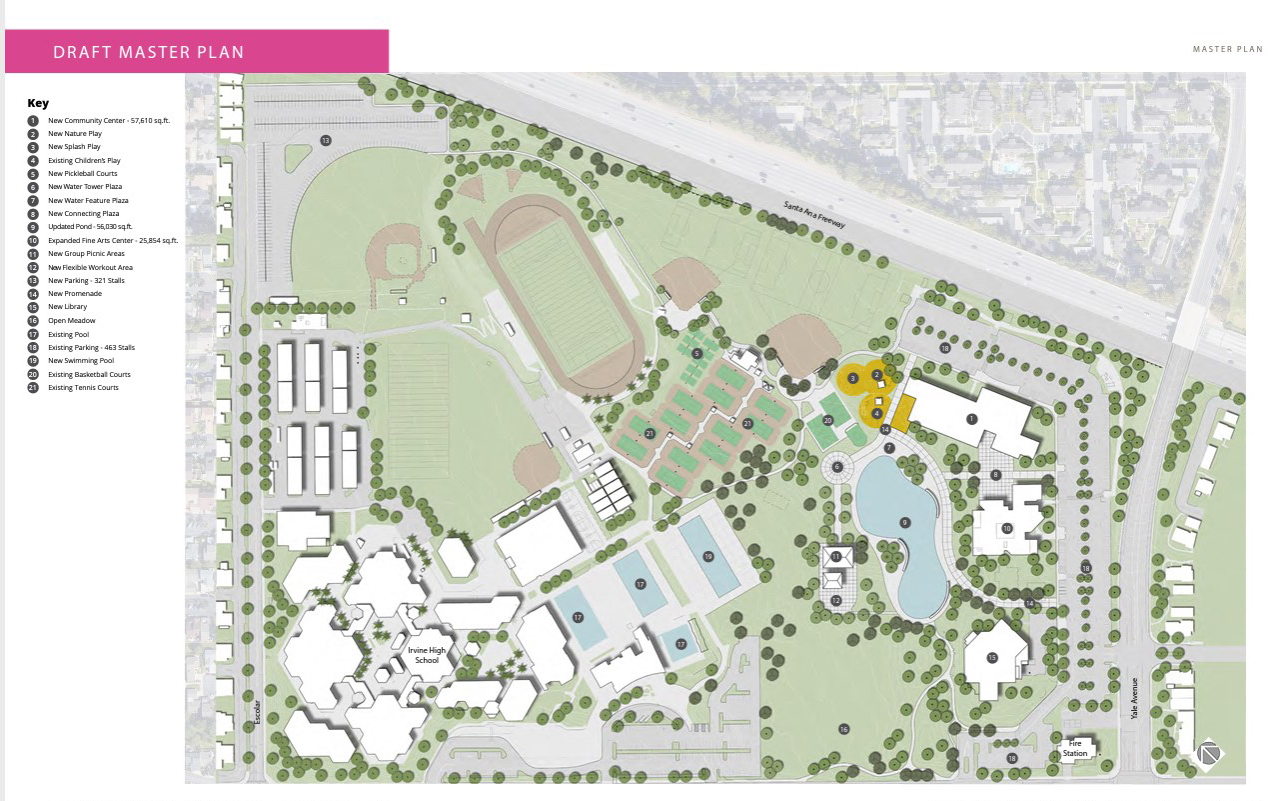 Draft Master Plan
The City used the feedback provided at the Community Meeting to develop a proposed draft concept plan/site plan alternative. Further analysis was conducted, resulting in the creation of a draft master plan.
Draft Rehabilitation Concept
On September 1, 2021, the Community Services Commission reviewed a draft preferred rehabilitation concept for Heritage Community Park. Each Commissioner provided feedback on the plan. The Commission reached consensus on a few revisions that were immediately incorporated into the preferred concept plan.
The revisions include:
An additional parking area in the northwest portion of the park.
Addition of a multi-use platform in the picnic area for recreational activities.
A space in the multi-use field that could accommodate an expansion of Woollett Aquatics Center, should it occur.
Creation of pickleball courts, as space allows.
A copy of the updated draft preferred rehabilitation concept is available here. Please continue to monitor this webpage for updates on the Heritage Community Park Master Plan. Information on any community meetings and/or hearings will also be provided as they are scheduled.
July 22 Community Workshop
The City of Irvine held a community workshop on Monday, July 22, at the Irvine High School Theater, where it presented several initial conceptual alternatives for the park based on community feedback received earlier this year. For those who were unable to attend the workshop, a survey was provided to share additional feedback. Information from this workshop and survey will be used to develop a preferred concept plan for the park, and results will be shared on the page at a later date.
More Information
Click the buttons below for more information on Heritage Community Park Improvements Master Plan and how you can get involved.
Connect with Us
The City of Irvine welcomes input from the community. If you are interested in providing individual feedback outside of the various workshops or planned outreach activities, park planning staff would be happy to answer questions or provide additional project details. Please contact City of Irvine Senior Planner Kathleen Haton at 949-724-6667 or khaton@cityofirvine.org.