Hours & Directions
How to Get Here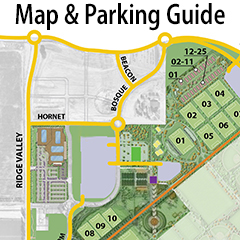 The Orange County Great Park has entry points at Marine Way, Trabuco/Great Park Boulevard, and Ridge Valley. View a high-resolution map with parking guide here, and see detailed driving directions below.
Great Park Hours
General park hours are 8 a.m. to 10 p.m. daily. Special operating hours may exist for different park facilities and amenities, and hours may vary on holidays. Please see detailed information on park hours below.
For questions, give us a call at the Visitors Center at 949-724-6247.