Hours & Directions
Temporary road closures are in effect at the Great Park. Please download the latest map, which shows driving routes, and be sure to follow all road signs within the park. Thank you for your patience as we continue to improve access to the park.
How to Get Here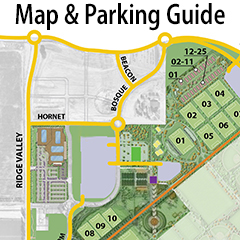 The Orange County Great Park has entry points at Marine Way, Trabuco/Great Park Boulevard, and Ridge Valley. View a high-resolution map with parking guide here, and see detailed driving directions below.
Great Park Hours
General park hours are 8 a.m. to 10 p.m. daily. Special operating hours may exist for different park facilities and amenities, and hours may vary on holidays. Please see detailed information on park hours below.
For questions, give us a call at the Visitors Center at 949-724-6247.