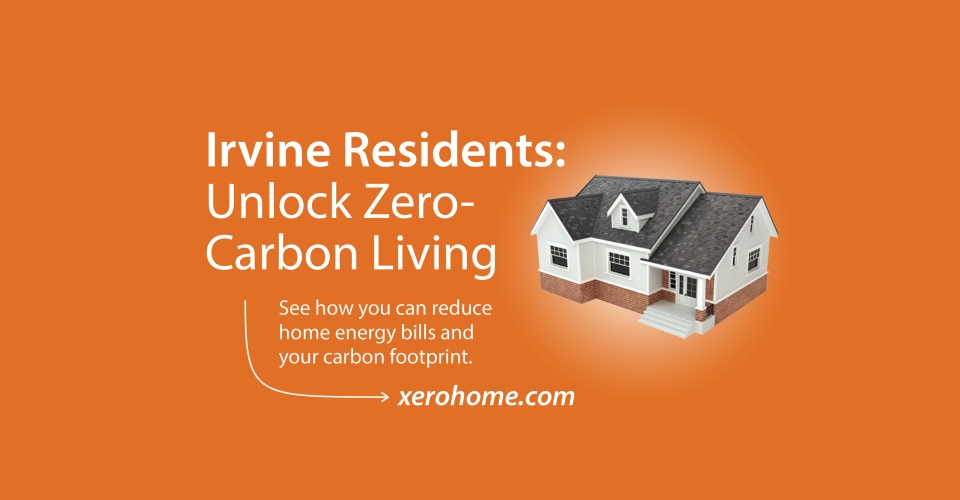 The City of Irvine, in partnership with Southern California Edison, is proud to offer its residents access to XeroHome, a free program that helps single-family homeowners identify ways to reduce their home energy bills and lower their carbon footprint. This online tool helps residents develop personalized plans to make their homes more energy efficient and easily find local, state, and federal rebates to help make energy upgrades possible.
Irvine residents can use the site to find which energy upgrades are best suited for their home — including energy efficiency, insulation, electrification, or rooftop solar options — and explore any combinations of those for their household. To start, users visit xerohome.com and enter their home address. After answering a few questions, they will be provided a customized energy upgrade plan for their home with clear recommendations for cost-effective, clean energy options. The site provides detailed descriptions of each upgrade, expected costs and savings, and available rebates, and will help residents take next steps.
The first 100 people to try out the site will be eligible for a free $10 Amazon gift card. Simply share your email while answering the site's questions, and XeroHome will mail a gift card to your home address. Users of the site who do not want to share their email can skip this step and still receive customized energy upgrade plans about their home.
XeroHome is available to Irvine residents through November 2024. This program is funded by Southern California Edison in partnership with the City of Irvine.
Learn more at xerohome.com. Learn more about the City of Irvine Environmental Programs at cityofirvine.org/environmentalprograms.