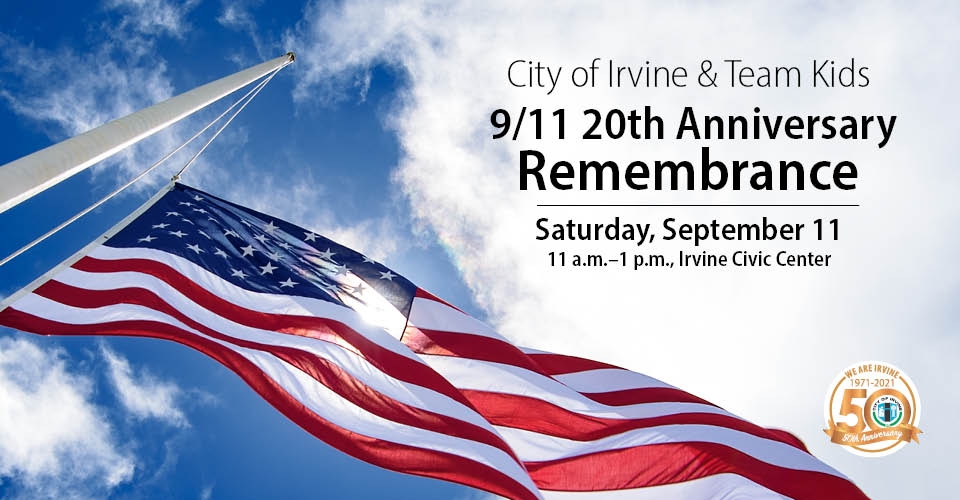 The City of Irvine and Team Kids invites the public to commemorate the 20th anniversary of September 11 and honor public safety heroes by writing thank you letters and presenting them to police and firefighters at the Irvine Civic Center Saturday, September 11, from 11 a.m. to 1 p.m.
The September 11 National Day of Service and Remembrance (9/11 Day) is a chance to help others in tribute to those killed and injured on September 11, 2001, first responders, and the countless others who serve to defend the nation's freedom at home and around the globe. September 11, 2021, is the 20th anniversary of that tragic day.
"Although September 11 marks a day of tragedy, I'm grateful we can provide an opportunity to honor our public safety heroes by continuing to remember those we have lost and those who continue to serve and protect us," said Mayor Farrah N. Khan. "Partnering with Team Kids for this special event is a seamless way to engage youth in service and never forget September 11."
Irvine residents, families, and children are invited to come out and write thank you letters and present them to the police and firefighters who will be on-site. If you cannot attend the September 11 event, letters can be submitted virtually by downloading the template at teamkids.org and submitting via email.
For more information about the commemorative September 11 event, visit cityofirvine.org or teamkids.org.
About Team Kids:
Team Kids' mission is to empower our children to change the world.  Based on positive youth development and strengthening youth assets, Team Kids promotes healthy attitudes and behavior in youth while protecting against high-risk ones. Since Team Kids inception in 2001, more than 90,000 students have completed the month-long program in Orange County, Los Angeles County and Arlington, VA, and have raised and donated close to $600,000 to other charities.  For more information, visit the Team Kids web site at teamkids.org.