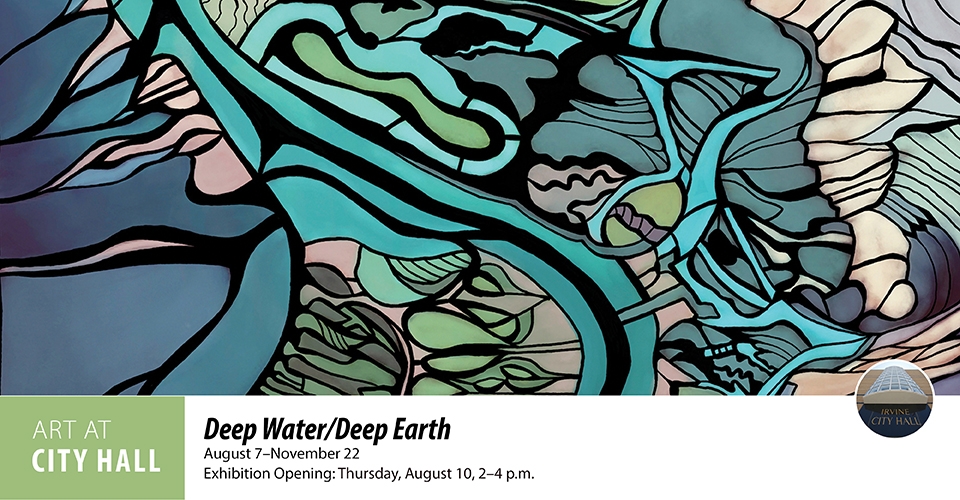 The City of Irvine is pleased to announce a new Art at City Hall exhibition series, Deep Water/Deep Earth, which translates the enormous and complex water channels underground in Irvine into a body of collages, prints, and programmed digital artwork. Deep Water/Deep Earth opens Monday, August 7, and concludes Wednesday, November 22. An opening reception will be held Thursday, August 10, 2–4 p.m., at Irvine City Hall.
Deep Water/Deep Earth refers to the many levels of physical geography and their transformation under the massive forces of water flow. Aquifers, cisterns, and caverns, pits, and mines — these subsurface geographic features play a vital role in shaping history and culture. Underfoot in Irvine lies an enormous aquifer with over 1 million acre-feet of water that reaches as deep as three-quarters of a mile and stretches to the outer limits of Orange County and beyond. This life-giving resource remains essentially invisible even as it affects every aspect of daily life obscuring humanity's great dependence on what lies below the earth's surface.
The exhibition interprets these complex flows into a body of evocative images, prints, and digital displays created and curated by University California, Irvine professor Antoinette LaFarge and independent artist Christel Dillbohner, Berkeley. Together, this collaborative team explores an imagined relationship to the interplay of geology and hydrology.
Art at City Hall is an ongoing series of art exhibitions bringing artwork from local exhibiting artists to Irvine City Hall. Exhibitions focus on art with an Irvine perspective, featuring artists of all age groups and a variety of media types, with new exhibitions opening seasonally.
City Hall is open to the public 7:30 a.m.–5:30 p.m. Monday–Thursday and 8 a.m.–5 p.m. Friday. The exhibition, parking, and opening reception are free and open to the public. For more information, visit cityofirvine.org/artatcityhall.