Art at City Hall is an ongoing series of art exhibitions bringing artwork from local exhibiting artists to Irvine City Hall. Exhibitions focus on art with an Irvine perspective, featuring artists of all age groups with new exhibitions opening seasonally.
Learn more about exhibitions at the Irvine Fine Arts Center here.
Learn more about exhibitions at the Great Park Gallery here. 
Current Exhibition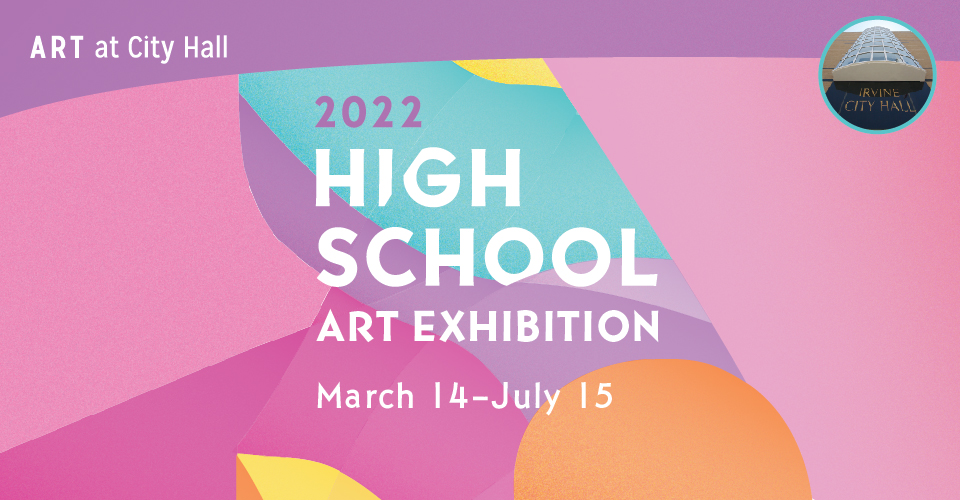 Art at City Hall
2022 High School Art Exhibition
Exhibition: March 14–July 15 
Irvine City Hall, 1 Civic Center Plaza
The City of Irvine Fine Arts Center is pleased to announce ts annual High School Art Exhibition, presented this year as part of the Art at City Hall series. The exhibition will be on display through Friday, July 15, at Irvine City Hall.
The High School Art Exhibition will feature paintings, drawings, photographs, graphic design, and mixed media works. The selection of art on view will reflect the ambitious imaginations and diversity of the creatives of tomorrow. This exhibition celebrates the unique perspectives and talents of budding artists from Irvine high schools, including Portola High School, Crean Lutheran High School, Irvine High School, Beckman High School, Northwood High School, University High School, and Woodbridge High School.
This year's exhibition was guest juried by artist, writer, and arts educator Sydney Walters, who received her Bachelor of Arts degree from Biola University and her Master of Fine Arts degree from Claremont Graduate University. Walters' selections for top awards and honorable mentions among the artworks selected for display will be announced during the opening reception.
City Hall is open to the public 7:30 a.m.–5:30 p.m. Monday–Thursday and 8 a.m.–5 p.m. Friday. The High School Art Exhibition will also be available to view 10 a.m.–2 p.m. on select Saturdays: April 16, May 21, and June 18. The exhibition is free and open to the public.
High School Art Exhibition Awards
Congratulations to the recipients of this year's High School Art Exhibition awards.
First Place:
Hannah by Rey Hoshi, Irvine High School

Second Place:
Sweet by Ziyang Gao, Portola High School

Third Place:
Devouring Mother by Camden Mai, Beckman High School
First Runner Up: Shared Diet by Ashley Kim, Portola High School
Second Runner Up: Are you addicted? by Lauren Hahm, Beckman High School
Third Runner Up: What a Pleasure by Elle Rodriguez, Crean Lutheran High School