lease note: The City of Irvine continues to follow state and federal health and safety guidelines to protect the public against COVID-19 infection. Face coverings are recommended, and required in certain settings as outlined in the California Department of Public Health Guidance for the Use of Face Coverings.
---
Volunteer Opportunities in Senior Services
Are you interested in giving back to  the Irvine community? Become an  Irvine Senior Services volunteer! For more information, contact 949-724-6096 or volunteer@cityofirvine.org.
Serving Up Smiles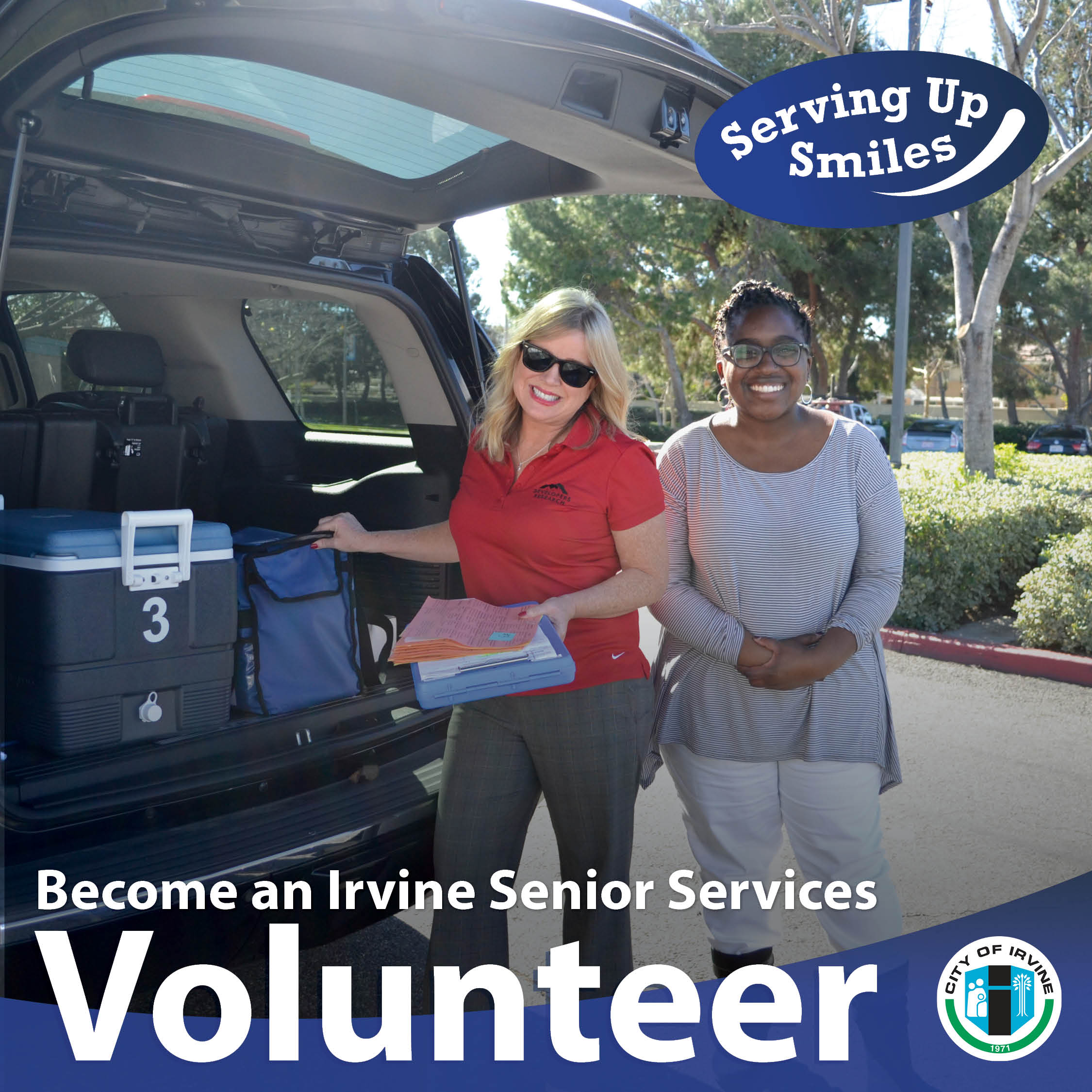 Join the City of Irvine in "Serving Up Smiles" to our community's seniors by becoming an Irvine Senior Services volunteer. Meals on Wheels drivers and dining room servers are needed Monday through Friday, 11 a.m. to 1:30 p.m. Time commitments are as little as one day a week, and your support helps ensure seniors in the Irvine community get proper nutrition while socializing and making friends. Learn more by clicking on the opportunities below. 
Those interested in volunteering can learn more at free volunteer orientations held in-person at Lakeview Senior Center as well as virtually on the dates below. Guests will learn more about volunteer requirements and hear testimonials from current volunteers. Registration to attend the volunteer orientation is required at yourirvine.org.
Wednesday, June 8, 2:30 p.m. 
Thursday, June 9, 2:30 p.m. (presented virtually)
"Serving Up Smiles" is a volunteer recruitment program named for the enjoyment and fulfillment Senior Services volunteers receive from helping to provide services to the community.
For more information, email volunteer@cityofirvine.org.
Volunteer Opportunities:
For additional volunteer opportunities with the City of Irvine, visit the City's Volunteer Opportunities webpage.