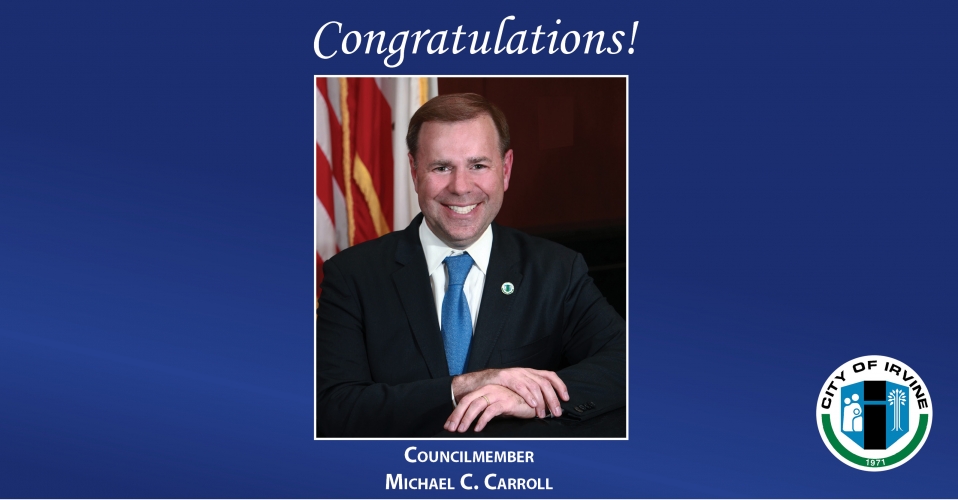 City Council votes 3-1 at May 14 Meeting to Fill Council Vacancy
Tonight at the Irvine City Council Meeting, Mike Carroll was appointed by the City Council to fill the current Councilmember vacancy. Candidate interviews were conducted earlier this afternoon by the City Council at its special meeting, and later at its regular meeting, a 3-1 vote was reached to appoint Mr. Carroll to the City Council.
"After thoughtful discussion and an intensive interview process, I am pleased to welcome Mike Carroll to the Irvine City Council," said Mayor Shea. "While we had a number of qualified candidates, Mr. Carroll brings a wealth of community and professional experience making him uniquely qualified to serve as an Irvine City Councilmember. He is a champion for our wonderful community and I look forward to working with him."
Carroll serves on the City of Irvine Planning Commission as Vice Chair and served on the City's Community Services Commission from 2012-2016.
Councilmember Carroll, sworn in by the Irvine City Clerk tonight, fills the vacancy that was created when former Councilmember Christina Shea succeeded to the Office of Mayor, following the election of former Mayor Donald P. Wagner to the Orange County Board of Supervisors in March.