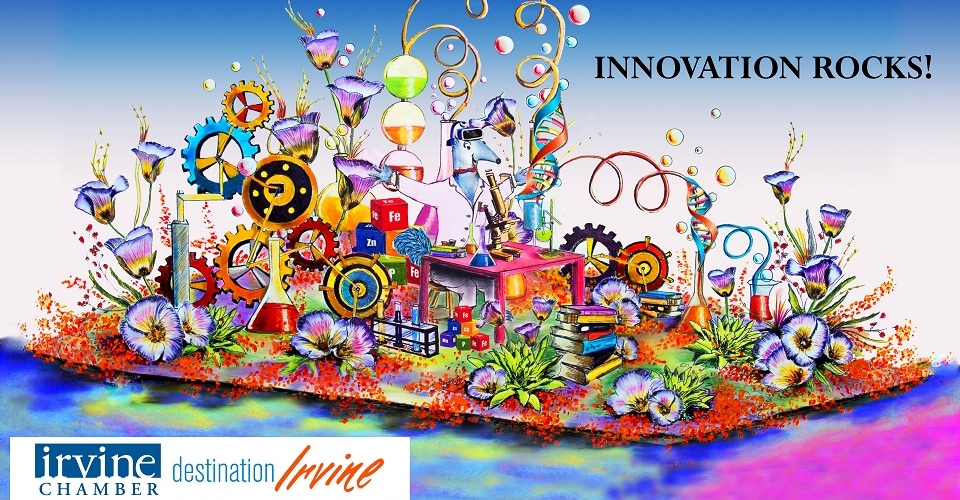 See latest blog from December 2, 2015: Click here. 
Irvine, Calif., July 15, 2015 – On Jan. 1, 2016, Irvine, the center of Orange County, will garner world-wide attention as Destination Irvine joins dozens of floral-clad floats, marching bands, equestrians and other parade entries in the 127th Rose Parade presented by Honda. With more than 700,000 spectators and 81 million television viewers worldwide watching the parade, Irvine hopes to make a lasting impression on a global scale.
The theme of the 2016 Rose Parade is "Find Your Adventure." This theme has grown out of a partnership between the Pasadena Tournament of Roses®   and the U.S. National Park Service and will help shine light on the centennial celebration of our nation's national parks.
"Celebrating the adventure of discovery, the Irvine Chamber's business and tourism division, Destination Irvine, along with its collection of 16 hotels, present 'Innovation Rocks!'" as the theme our float,' said Tallia Hart, President/CEO, Irvine Chamber of Commerce. "The float celebrates the exhilarating and life-changing innovations in technology and life sciences for which Irvine, its university and colleges and its global companies are known for world-wide."
To build the float, Destination Irvine has chosen Phoenix Decorating Company out of Pasadena, Calif. In the company's 33-year history, it has produced 752 Rose Parade floats, and won 244 awards for its work.
"We are excited and honored that Irvine Chamber of Commerce and Destination Irvine are participating in the 2016 Rose Parade" Phoenix Decorating Company and CEO Chris Lofthouse said. "To be able to highlight one of Orange County's vibrant cities that features one of the most dynamic business environments will be a great addition to America's New Year's Celebration."
The Irvine Chamber's Destination Irvine Rose Parade float is made possible by funding from the Irvine Hotel Improvement District and its sixteen participating hotels: Atrium Hotel, Candlewood Suites, Courtyard by Marriot, Irvine Airport, Courtyard Irvine Spectrum, DoubleTree by Hilton Irvine Spectrum, Embassy Suites Irvine, Extended Stay America, Irvine Spectrum, Hilton Garden Inn, Hilton Irvine, Hotel Irvine, Irvine Marriott, La Quinta Inn & Suites, Irvine Spectrum, Residence Inn by Marriott, Irvine Airport, Residence Inn by Marriott, Irvine Spectrum, SpringHill Suites, Wyndham Irvine – Orange County Airport. 
About Destination Irvine
Under the Irvine Chamber of Commerce, a non-profit 501(c)6,  Destination Irvine, funded by a self-imposed assessment tax through a Hotel Improvement District (H.I.D.) comprised of Irvine's 16 hotels, positions Irvine as a destination for visitors, meetings and groups. Destination Irvine through direct sales efforts including database marketing, lead generation, trade show participation, and familiarization tours, sells the destination. In addition, Destination Irvine promotes Irvine through marketing, advertising and public relations efforts.  www.destinationirvine.com
About Phoenix Decorating Company
Now in its 33rd year, Phoenix Decorating Company has sent 752 Rose Parade floats down Colorado Boulevard. The Rose Parade float builder of choice was responsible for 18 of the 40 floats in the 2015 edition of the parade. The leader in innovative float design, animation, hydraulics, pyrotechnics and live performances, Phoenix Decorating Company excels in brand integration and support to clients that will bring award-winning floats for years to come. For more information, please visit www.phoenixdeco.com
About the Tournament of Roses®
The Tournament of Roses is a volunteer organization that annually hosts the Rose Parade®, the Rose Bowl Game® and a variety of associated events.  Nine hundred thirty-five volunteer members act as ambassadors of the organization and contribute upwards of 80,000 hours of manpower each year.  The 127th Rose Parade presented by Honda and themed "Find Your Adventure," will take place Friday, January 1, 2016, followed by the 102nd Rose Bowl Game presented by Northwestern Mutual.  Learn more at www.tournamentofroses.com and on Facebook, Twitter, Instagram and YouTube.