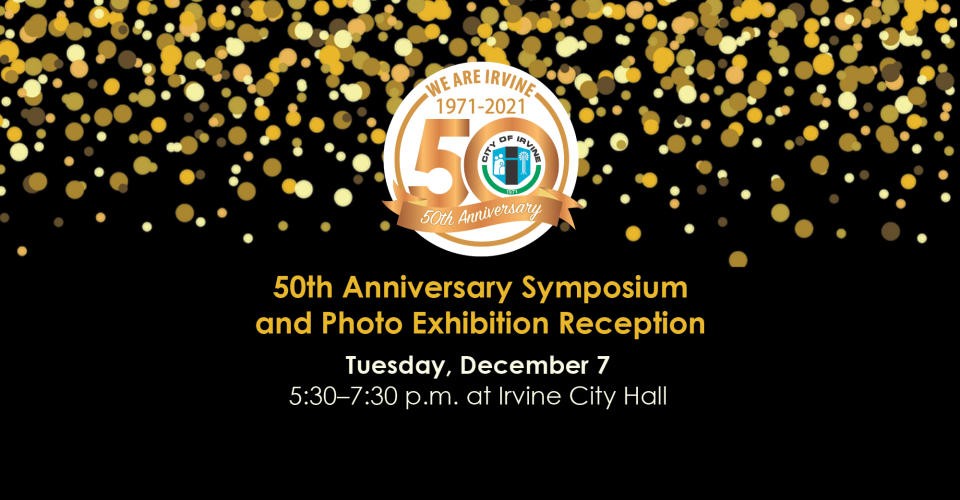 Thursday, December 2, 2021
The City of Irvine, in celebration of its 50th anniversary of incorporation, invites residents, businesses, and visitors to the 50th Anniversary Symposium and Photo Exhibition Reception on Tuesday, December 7, from 5:30 to 7:30 p.m. at the Irvine Civic Center.  
This special event will begin with an opening reception celebrating the winning and finalist submissions in the 50th anniversary photo contest. The contest, which took place over the summer, invited residents to submit photos that capture the essence of Irvine in five categories: culture and community; historical, outdoors, pets, and 17 and under submissions. A panel of experts reviewed approximately 500 submissions selecting winning entries based on creativity, artistic merit, subject, and style.
Next, the symposium will take place in the Council Chamber with the debut of the City's 50th anniversary oral history video, featuring some of Irvine's most prominent leaders and visionaries. The symposium panel, led by moderator Councilmember Mike Carroll, will look back on our City's rich history highlighting how Irvine became the model master-planned community it is today.
Panelists include:
Jeff Davis, Vice President, Irvine Company
Roger Grable, First Irvine City Attorney
Mike Hamel, Retired Irvine Police Chief
Brian Pratt, UC Irvine Associate Vice Chancellor and Campus Architect
Mike Stockstill, Author Transforming the Irvine Ranch
Timothy L Strader, Sr., Founder and Chairman, Starpointe Ventures
All photo contest entries can be viewed online. The contest winners and finalists in each category are also highlighted in the winter issue of Inside Irvine.
The event is free and open to the public. Light refreshments will be served during the reception. RSVP is encouraged for this and can be made here. For more information, visit cityofirvine.org/50th.