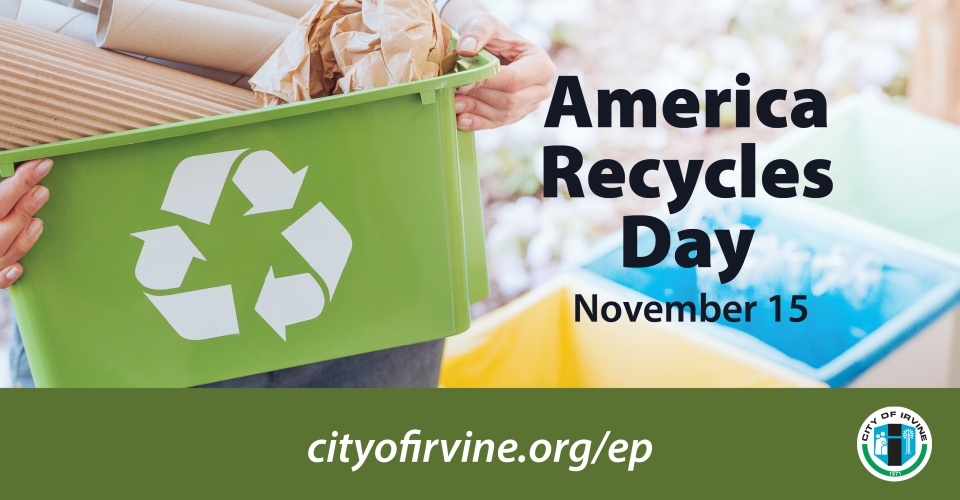 Wednesday, November 9, 2022
Celebrate America Recycles Day with the City of Irvine November 15! Every year, this national day aims to spread awareness on how to recycle, which recycled products to buy, and how to reduce waste. Recycling is just one way our City is working to create a climate-safe future for the community and become carbon neutral by 2030.
If you're at City Hall Tuesday, November 15, between 11 a.m. and 1 p.m., swing by our Environmental Programs booth in the lobby to learn more about how you can get involved. Learn new facts, test your recycling trivia, and win a sustainable prize! Learn more at cityofirvine.org/ep. 
You can also support Irvine's climate initiatives by joining the Cool Block Program, an initiative where residents lead their neighbors through a shared learning program to improve sustainability and quality of life in their own neighborhoods. Since the program launched in January, more than 200 Irvine households have pledged over 2,200 actions and taken 1,500 measures to reduce emissions. The measures have resulted in a reduction of nearly 650,000 pounds of CO2 emissions. Learn more at cityofirvine.org/coolcity.
For questions, contact Environmental Programs at 949-724-7365.