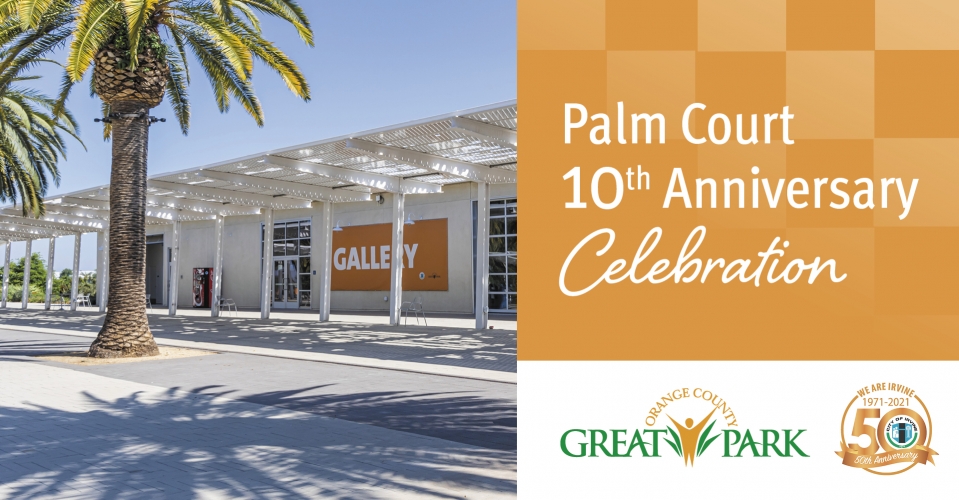 Celebrate the 10th anniversary of the Palm Court Arts Complex at the Orange County Great Park during a reception for the Great Park Gallery's summer exhibition, Chuck Jones: Season of Creativity. The Palm Court Arts Complex first opened to the public in 2011, and the community is invited to a special exhibition reception August 1 at noon to honor a decade of art, creativity, and community.
The Palm Court Arts Complex comprises: historic Hangar 244, a 10,000-square-foot events and gallery space; the Great Park Gallery featuring rotating exhibitions; the Artist Studios, a gathering and programs space; and the Palm Court, with 54 Canary Islands date palms and Ghost Building 243, a permanent outdoor exhibition marking the space and rooms of MCAS El Toro building 243.
"When the Palm Court Arts Complex opened, it brought public, accessible art to the community," said Irvine Mayor Farrah N. Khan. "As the City celebrates its 50th anniversary, we're proud to look back on 10 years of art at the Great Park."
The Great Park opened the Palm Court Arts Complex to the public July 9, 2011, bringing a community arts and events space to the growing park. The first gallery exhibition opened July 23, displaying aviation-inspired works by local artist Jorg Dubin. Over the past decade, exhibitions in the Great Park Gallery have brought local, national, and internationally known artists' works to a welcoming, family-friendly space.
The current exhibition continues this tradition, with a telling of animation history featuring characters so compelling they were created in the 1930s and can be seen today in the movie Space Jam: A New Legacy. The exhibition, Chuck Jones: Season of Creativity, explores the process of animation from script to screen through original art and writing by Chuck Jones, who brought to life some of the most famous Warner Bros. characters.
On Sunday, August 1, at noon, gather in the Great Park Gallery to meet renowned Disney animator, director, and Chuck Jones protégée Eric Goldberg and members of Jones' family including Craig Kausen, chairman of the Chuck Jones Center for Creativity, Chuck Jones' grandson, and longtime Irvine resident. Take photos near iconic memorabilia, including the actual desk Jones used during his career to create characters such as Bugs Bunny, Daffy Duck, Marvin the Martian, Wile E. Coyote, and the Road Runner.
Afterward, enjoy the Chuck Jones Lecture & Film Series event 1–3 p.m. at Hangar 244. What Makes Chuck Chuck? is a conversation with Goldberg and Kausen exploring the characteristics, hallmarks, and trademarks of Jones' work that make him unique among his animation peers. Cartoons will also be shown at this family-friendly event.
The Palm Court Arts Complex's 10th anniversary event, including the exhibition reception and lecture and film series, is free. No registration is required, and all ages are welcome. Learn more at cityofirvine.org/chuckjones.