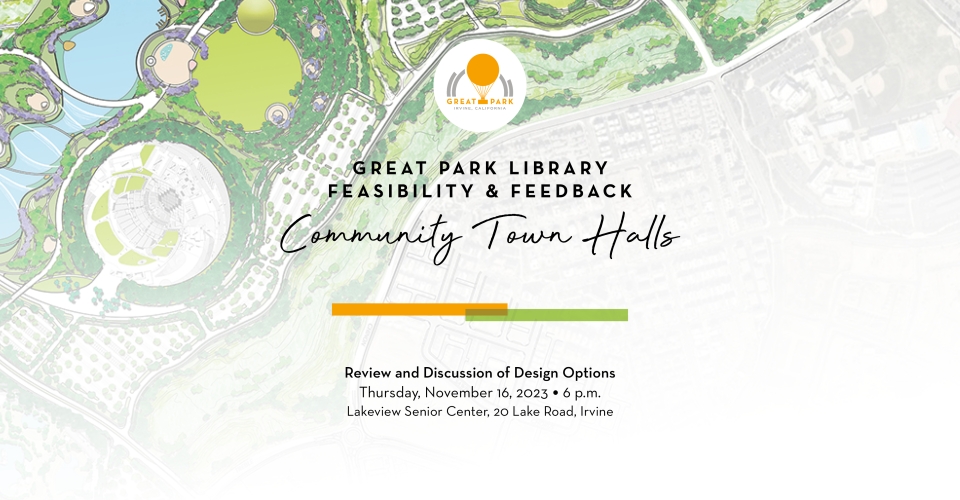 Thursday, October 12, 2023
The City of Irvine is in the planning phase of a new library at the Great Park as part of the Great Park Framework Plan. Planned for a site adjacent to the Botanical Gardens and the Veterans Memorial Park and Gardens, this will be the most versatile library in our City. The new library provides an excellent opportunity to serve as a gathering place and resource for the community and is envisioned as Irvine's future central library.
Community engagement and input are crucial as we shape the future of our new facility. Join the City of Irvine at an upcoming Community Town Hall to help create a space that reflects the needs and aspirations of our vibrant City.
Review and Discussion of Design Options Town Hall
Thursday, November 16, 2023, at 6 p.m.
Lakeview Senior Center
20 Lake Road, Irvine
The Great Park Framework Plan brings over 300 acres of innovative and unique public space to the park, including lakes, gardens, live music, museums, wide open meadows, and space to honor those who served. Grounded in history and driven by community, the new phase of the Great Park will bring an expanding array of recreational and cultural opportunities to Irvine and the region as a park for all.
Please visit the Project Updates webpage for more information about the upcoming meetings and the City's plans for the future library. You can also share your feedback by emailing LibrariesFeedback@cityofirvine.org.