In early 2021, the City of Irvine passed a resolution reaffirming Irvine's commitment to Diversity, Equity, and Inclusion in our City and subsequently formed a Diversity, Equity, and Inclusion Committee. The committee's first campaign, We Are Irvine, aims to embrace and celebrate diversity and foster an environment that is inclusive of all cultures, races, ethnicities, genders, sexual orientations, ages, abilities, perspectives, and ways of thinking. 
This webpage is an arm of the We Are Irvine campaign and will be updated regularly to reflect the current and upcoming celebrations and observances of our community members and residents. 
September 2023
For a description of all DEI recognitions, view our DE&I Calendar.
JeonJu City, Korea Delegation Visit
The City of Irvine welcomed a 17-member delegation of Councilmembers and staff from the City of Jeonju, Korea August 30. The delegation visited Irvine to learn about our City's residents, culture, and the development of The City of Irvine as a master-planned community. The delegation met with City of Irvine staff to discuss the planning and development process of the Great Park, as it relates to a similar project in the City of Jeonju. 
Fiesta Latina en Irvine
September 17, 2023
Great Park, 11 a.m.-3 p.m.
Join the City of Irvine, in partnership with UCI and UCI Health, in celebrating Hispanic Heritage Month during the second annual Fiesta Latina en Irvine as we honor Hispanic Americans who have positively influenced and enriched our nation, society, and community.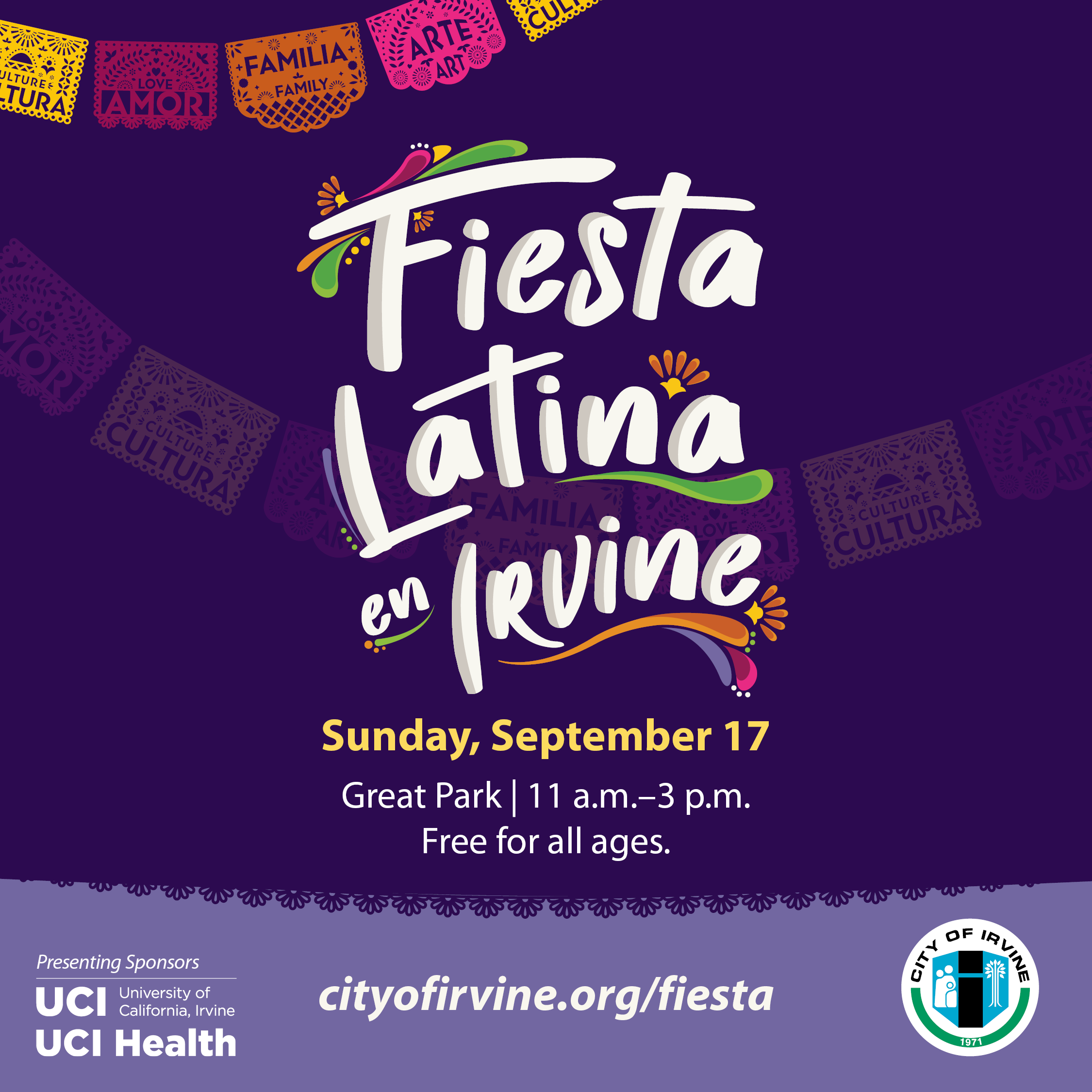 At the Great Park September 17 from 11 a.m. to 3 p.m., learn about the cultures and contributions of Latin American indigenous communities and those with Spanish, Mexican, Caribbean, Central and South American roots through music, food, language, literature, and art. This free event is open to all ages. Learn more here. 
Mid-Autumn Festival
September 29
Great Park, 5-9 p.m.
The City of Irvine will host a Mid-Autumn Festival at the Great Park, Friday, September 29, from 5 to 9 p.m. 
This family-friendly festival includes education, entertainment, crafts, food trucks, and artistic demonstrations. Local community partners will be in attendance to support the event and share organizational information and resources. This event is free, open to all ages, and no registration is required. Learn more here. 
Orange County Business Journal Special Report Feature
The City of Irvine has been recognized in the Orange County Business Journal's (OCBJ) feature Embracing Diversity, Equity & Inclusion, published July 10. 

Focusing on honoring diversity, equity, and inclusion (DE&I) champions in the Orange County area, the feature highlights Irvine's ongoing efforts and commitment to an inclusive and equitable work environment. Read the article here.
 
International Taekwondo Day: September 4
At its August 28 meeting, the Irvine City Council voted to proclaim September 4, 2023, as Taekwondo Day in Irvine. Taekwondo is a Korean form of martial arts in which participants wear a uniform known as a dobok, attack or defend with punching and kicking techniques. This combat sport was conceived in the 1940s by Korean martial artists skilled in karate, Chinese martial arts, and indigenous Korean martial arts traditions such as Taekkyon, Subak, and Gwonbeop. The observance coincided with the date when Taekwondo was included in the Olympic games in 2000. 
If you would like to learn more about Taekwondo, head to the Great Park Baseball Stadium on Sunday, August 27, at 3 p.m. to watch the incredible talents of Sun Moon University's world-renowned traveling Taekwondo Demonstration Team.
National Hispanic Heritage Month: September 15-October 15
At its September 12 meeting, the Irvine City Council voted to proclaim September 15-October 15 as National Hispanic Heritage Month in Irvine. The City of Irvine recognizes the significant contributions of all Hispanic city employees, numerous grassroots leaders, and outreach groups that help increase cultural awareness, education, enrichment, and community engagement with its residents. Recognizing this month highlights the rich heritage, arts, history, food, music, and traditions of all Latin American nations and it is an important part of the City of Irvine's strong, inclusive community. 
Mahsa Amini Day: September 16
At its meeting September 26, the Irvine City Council will proclaim September 16 as Mahsa Amini Day in the City of Irvine. The Council will set forth this proclamation in recognition of the 22-year-old Iranian woman who died in the hospital following her arrest for not following government standards in relation to wearing a hijab. 
Constitution Day and Citizenship Day: September 17 and Constitution Week: September 17-23
September 17, 2023 marks the 236th anniversary of the drafting of the Constitution of the United States by the Constitutional Convention. The City Council proclaimed September 17, 2023 as Constitution Day and Citizenship Day and September 17-23 as Constitution Week in the City of Irvine as a means to reaffirm the ideals the Framers of the Constitution had in 1787 by protecting the freedoms guaranteed to us. 
Mid-Autumn Festival/Chuseok Celebration Day: September 29
September 29 commemorates the Mid-Autumn Festival and Chuseok, where Chinese, Vietnamese, Koreans, Japanese, Singaporeans, Cambodians, Malaysians, Indonesians, Thai, and Filipinos gather with their families in celebration and thanksgiving for a bountiful harvest festival. In recognition of this, and as an opportunity to celebrate these culturally important festivals and all of the contributions Asian Americans and Pacific Islanders have made to the City of Irvine, the City Council proclaimed September 29, 2023 as Mid-Autumn Festival/Chuseok Celebration Day in the City of Irvine. These communities have helped shape our City into what it is today. 
Hunger Action Month: September 2023 


Hunger and poverty are issues of vital concern in our community, as 10.5% of Californians face food insecurity on a daily basis, and one in every seven children in the state do not know where their next meal will come from. The City of Irvine is committed to working with our local resources in educating people about the role and importance of food banks and food care, addressing hunger, and raising awareness of the need to devote more attention to hunger issues. To this end, the Irvine City Council proclaimed September 2023 as Hunger Action Month in the City of Irvine at its meeting September 12, 2023. The City of Irvine clock tower will be illuminated Orange from September 18-24 in recognition of this week. 
Children's Emotional Wellness Month: September 2023
At its meeting September 12, the Irvine City Council proclaimed September 2023 as Children's Emotional Wellness Month as a means to address the emotional health needs of our children and youth. Irvine residents and all agencies and organizations within the City who are interested in meeting every child's emotional and mental health needs are urged to unite over the necessity of a year-round mental health program for children and their families. 
National Suicide Prevention & Action Month: September 2023
September is Suicide Prevention Month. National Suicide Prevention & Action Month was created to raise the visibility of mental health and suicide prevention resources that are available in our community, with the goal of starting the conversation regarding mental health and suicide, destigmatizing it, and connecting people with the appropriate services. The City of Irvine places its full support behind those who work in the fields of mental health, education, and law enforcement, and encourages residents to take the time to understand the importance of mental health. The City proclaimed September 2023 as National Suicide Prevention & Action Month in the City of Irvine at its meeting September 12, 2023. 
The Irvine Multicultural Association (IMA) is a program designed for Irvine's senior residents and offers educational resources and social functions for the community. IMA's mission is to promote harmony and understanding for a better, enlightened, and healthier community. The association was formed by the same group that introduced Irvine's Global Village Festival to the community over 20 years ago.
IMA's planning committee seeks to highlight a particular culture each month through programs like their International Film Series, the English Mentoring Program, and other outlets. For more information on these programs and events, see the DEI events section above, or visit their webpage. 
The IMA planning committee is looking for additional members to join the committee. Ideal representatives share the mission of the association. Please see the flier below for more information. 
Irvine Multicultural Association Flier
Past Celebrations
Learn more about past celebrations and observances of our diverse community members and residents by clicking here.
For more health and human Services information, visit our We Are Irvine webpage.