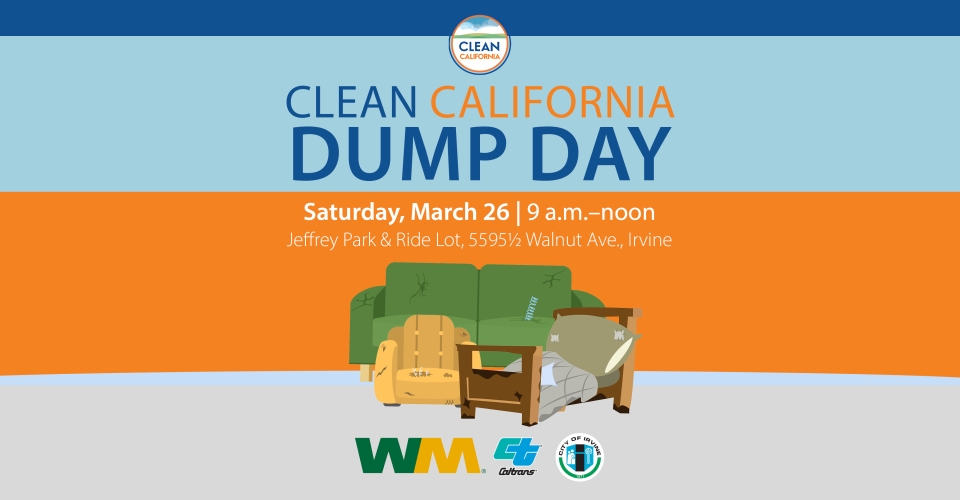 On March 26, the City of Irvine, Caltrans, and Waste Management are partnering to provide a community cleanup event where residents can dispose of bulky items for no cost. The Dump Day event will be held at the Jeffrey Park and Ride Lot (5595 ½ Walnut Ave.) and is designed to prevent illegal dumping before it happens.
Clean California was established through Gov. Gavin Newsom's $1.1 billion multiyear cleanup initiative that aims to remove trash and engage communities to restore roadsides and pride in public spaces.
The City's trash hauler, Waste Management, will be donating two additional 40-yard roll bins, in addition to those provided by Caltrans, for the collected trash and bulky items that residents drop off. This free Dump Day event provides a convenient way for residents to dispose of irregular or oversized items. Caltrans will cover the cost of disposing the items in the local landfill under the Clean California initiative.
"The City of Irvine is committed to environmental stewardship, and this free, easy, and convenient event is just one example of the many opportunities to preserve the environment in our great City," said Mayor Farrah N. Khan. "As the third City in California to pledge carbon neutrality by 2030, we will continue to prioritize the environment and ensure residents have access to numerous tangible opportunities to help our City succeed in this goal."
Saturday's event will run from 9 a.m. to noon at the Jeffrey Park and Ride Lot, located at 5595 ½ Walnut Ave., Irvine. Items such as mattresses, chairs, couches, tables, desks, children's toys, and excess green waste will be accepted. No hazardous waste or e-waste (anything with a circuit board or battery) will be accepted.
See an event flier here.
For more information about the City of Irvine's Environmental Programs, please visit cityofirvine.org/ep. To learn more about Gov. Newsom's Clean California initiative, visit CleanCA.com.