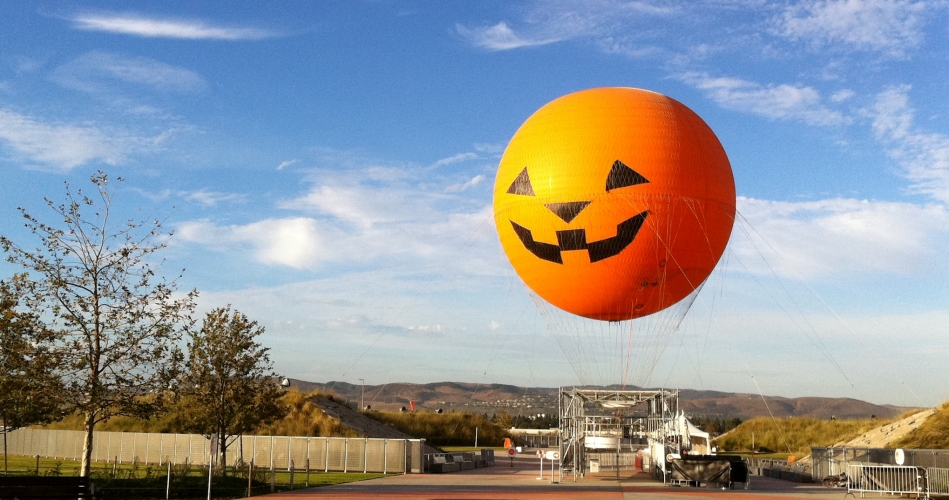 Friday, September 22, 2017
The community is invited to watch as the iconic Orange County Great Park Balloon is transformed into a jack-o-lantern face on Tuesday, Sept. 26. Balloon pilots are lifted by a large crane to attach black vinyl tarp pieces to the Balloon's sides, creating a jack-o-lantern face affectionately known as "Jack."
Jack will stick around through Nov. 1, and will be visible from the I-5 freeway. There is no cost to watch the Balloon's transformation, and guests are welcome to enjoy other Great Park amenities open that day, including the Farm + Food Lab and lawn areas. The transformation time is scheduled for 9-11 a.m., but could be delayed to the evening if winds are too strong. The Park will provide updates on its Facebook page.
Jack's arrival marks the countdown to the Great Park's two annual fall events: Spooktacular Fun Days and the Fall Food Drive. Spooktacular Fun Days feature family-friendly fall activities such as a pumpkin patch, treats, games, crafts, gourmet food trucks and more 9 a.m.-3 p.m. Saturday, Oct. 14, and Sunday, Oct. 15. Children 12 and younger are $5; adult tickets and parking are free. For more information and to purchase tickets, visit ocgp.org.
Park visitors can support the Fall Food Drive and scare hunger away by donating canned goods or nonperishable food items when visiting the Great Park Oct. 14-Nov. 19. Donations benefit local food banks, and will be accepted at the Visitors Center and Sports Complex 10 a.m.-10 p.m. Thursdays and Fridays and 9 a.m.-10 p.m. Saturdays and Sundays.
The Orange County Great Park is located off I-5 or I-405 at Sand Canyon and Marine Way in Irvine. For more information, visit ocgp.org or call 949-724-6247.