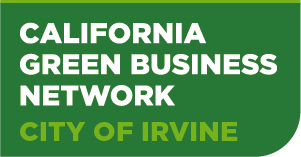 Go Green with the City of Irvine
Find information about the City's commitment to becoming a sustainable community. Help the City promote a healthy environment, including green building, energy efficiency, waste reduction, sustainable transportation, water conservation, a reduced carbon footprint, and related matters.
The City of Irvine is now offering a FREE Green Business Assistance Program, designed to help businesses operate sustainably and receive public recognition for their efforts. Becoming a Certified Green Business means implementing practices that reduce energy and water consumption, prevent pollution, diverts waste from landfills and assist staff in creating a cleaner healthier environment for their employees.