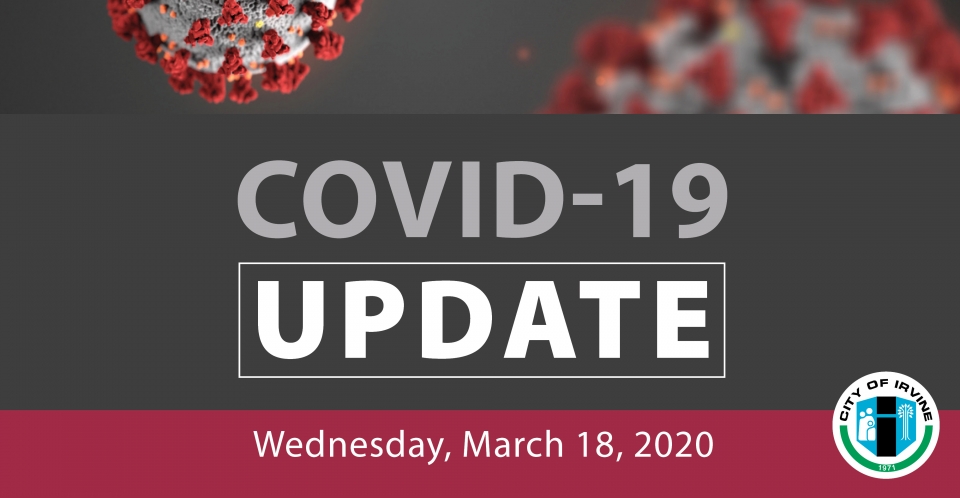 Wednesday, March 18, 2020
IRVINE, Calif. (March 18, 2020): In an effort to ensure the safety of City staff and the public, all Community Centers will be closed, effective Wednesday, March 18 at 5:30 p.m. The closure is the latest emergency measure to go into effect as part of the City's executive order that was issued on March 17.
"This decision was not taken lightly," stated Mayor Christina Shea. "Our community centers serve as important neighborhood hubs and provide essential services to our residents. But we also know the health and safety of our community is paramount. Given the high volume of people who pass through our facilities each day, it would be difficult to implement the public health guidance as it relates to social distancing. Each community center throughout our park system will have restrooms available should residents participate in the passive use of our parks."    
The closures include the following facilities:
All Community Centers
Irvine Fine Arts Center
Irvine Child Resource Center
All public facilities at the Orange County Great Park including the Visitors Center, Artists Studio, and Great Park Gallery
William Woollett Jr. Aquatics Center and Northwood Aquatic Center
Parks remain open for passive use, and park restrooms that are not located within Community Centers will remain open to the public.
Community Centers will be staffed during this time to monitor public use of parks, playgrounds, and athletic fields in an effort to ensure our community can enjoy City park amenities in a healthy and responsible manner, now and in the future.
City officials continue to closely monitor the evolving situation regarding the novel coronavirus, taking steps to safeguard the health and well-being of residents and businesses. Following is a list of additional facility closures and services available:
City Hall: Closed to the public. Essential services are available online, by telephone, or video conference.
Irvine Police Department: Open, but community members are strongly encouraged to call or email before coming to the station.
Senior Centers: Closed. A modified Congregate Meals Program with an outside lunch pick-up is available at Lakeview Senior Center. Meals on Wheels continues to provide meals to registered participants. Social services are available by phone.
Irvine Animal Care Center: Open by appointment only.
Sweet Shade Ability Center: Closed.
For a complete list of measures in effect and for regular updates on this rapidly evolving situation, visit cityofirvine.org.