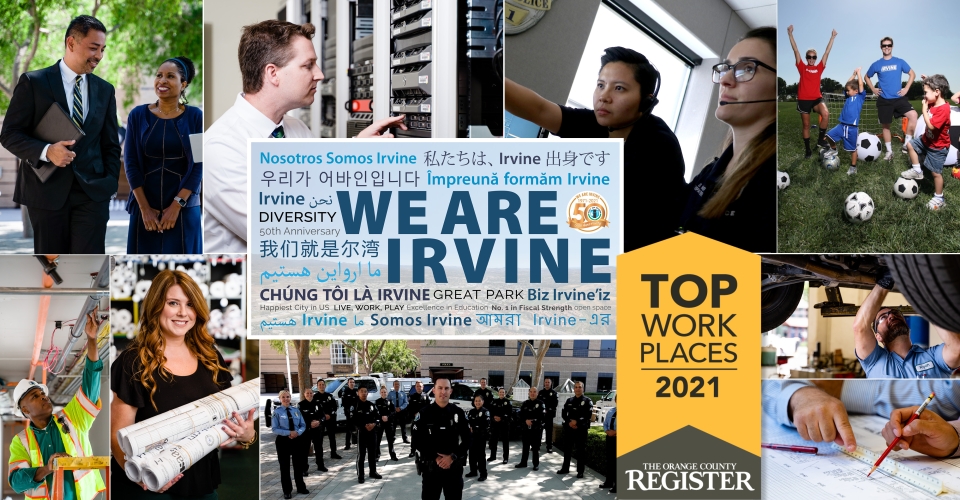 Tuesday, December 14, 2021
The City of Irvine has made the Orange County Register's list of Top Workplaces for 2021 in their 14th Annual Top Workplaces Awards and magazine publication.
Partnering with Energage, a Philadelphia-based workplace survey and employer-relations company, the Orange County Register welcomed any employer with at least 25 employees in Orange County to participate in a scientific survey process to determine the top workplaces in our area.
Survey questions ranged from ranking an employee's opinion on the efficiency of the company to sharing thoughts on the pay and benefits packages offered by their workplace.
"Our City was recognized as a top workplace on this coveted list – by our own employees – in a year with continued challenges and changes related to COVID-19," said Mayor Farrah N. Khan. "Our employees are one of our most valuable resources, and truly the reason we continue to thrive as a City – one that I could not be more proud to represent."
Out of 3,194 employers invited to participate, Irvine ranked No.16 on the list of Large Companies with 500 or more employees and among the 155 employers who made the overall list. The large company category recognizes 16 companies out of 17 participants with 500 or more employees in the region. The midsize division is honoring 54 firms out of 73 survey participants with 100-499 employees. For small-size companies, there are 85 honorees out of 117 survey participants with 99 or fewer employees in the county.
This is the first year the City of Irvine has received this prestigious award. As a newcomer to the program, the City excelled by creating a workplace that found innovative ways to continue providing services through a Digital City Hall and inventive approaches. Besides being ranked a top workplace, the City has received multiple awards for its groundbreaking approaches throughout the COVID-19 pandemic. For a list of City of Irvine awards and accolades, please visit cityofirvine.org/awards.
View current job opportunities in the City of Irvine, and learn more about programs and departments here.