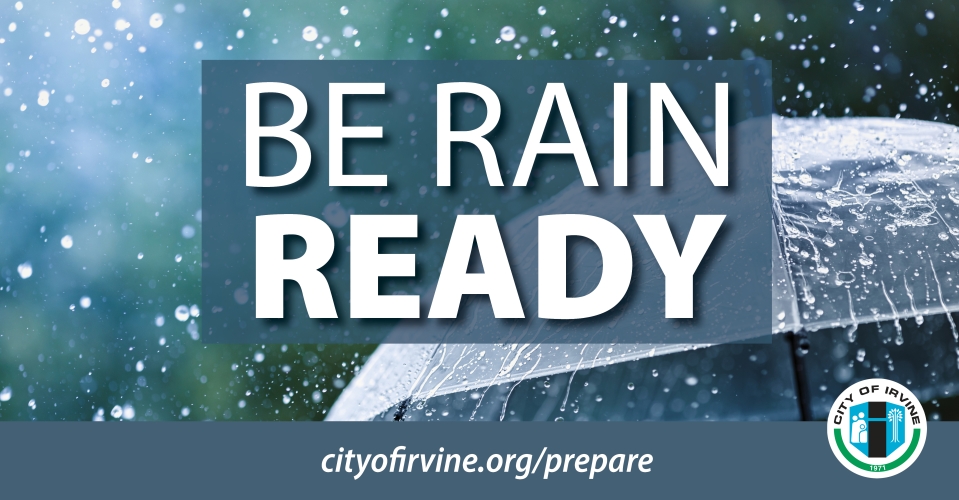 Wednesday, November 15, 2023
A storm system has moved into Southern California Wednesday, November 15, bringing rain across the region. The wet weather is expected to last all week and into the weekend. The City of Irvine Public Works & Transportation Department has staff prepared to respond to any issues that may arise with the weather. 
If you need sandbags, they are available at the City's Operations Support Facility (OSF), 6427 Oak Canyon Road, from 8 a.m. to 4 p.m., Monday through Friday. Up to 10 sandbags are available per household on a first-come, first-served basis.
​The Orange County Fire Authority (OCFA) has a limited supply of sand and bags available at several locations throughout the county. In Irvine, pick up free sand and bags at Station 36, 301 E. Yale Loop. Be sure to bring a shovel in order to fill your bags. For more information, visit OCFA's website. Sand and sandbags can also be obtained at building supply stores.
Bommer Canyon, Quail Hill, and Shady Canyon Open Space trails are closed at this time. 
You can report downed trees, flooding, and rain-related issues via the Access Irvine app, online at cityofirvine.org/howcanwehelp, or by calling 949-724-7000. For power outages, please visit sce.com/outage.
Be sure to secure loose items outdoors that could blow around during a strong storm. Sign up for AlertOC, the County's mass notification system, at AlertOC.com, and monitor social media, news, and weather advisories for warnings and updates.
Additional emergency preparedness information is available at cityofirvine.org/prepare. OCFA also offers information about protecting your home. 
For a link to the National Weather Service as it affects Irvine, visit weatherforecast.