Celebrate the City's 50th anniversary through a variety of activities throughout the year! More events will be continuously added, so visit this page for the most up-to-date information.
Ongoing Events
Irvine 50th Anniversary Chalk Art Project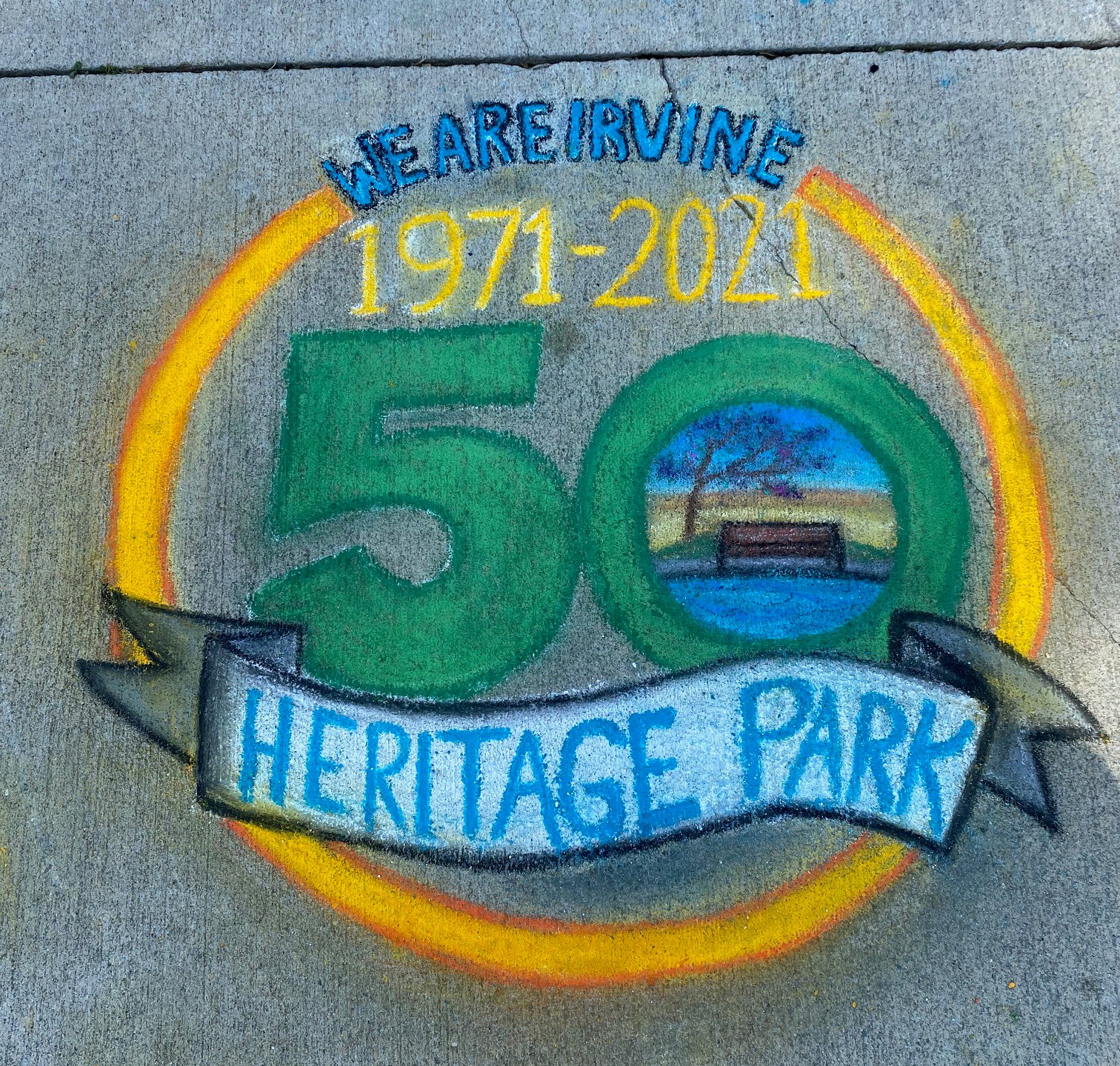 July 10 & 31, August 7 & 21, and September 4 & 18
Gather at various community centers where guests can contribute to a chalk rendition of the Irvine 50th anniversary logo. Learn more at cityofirvine.org/chalkartproject and view previous event photos here. 
Shoebox Parade 

The City of Irvine invites the community to take part in its Shoebox Parade in honor of the City's 50th anniversary of incorporation. Individuals and families are invited to design a "shoebox float" that features what they love about Irvine. Photos of all shoebox floats will be shared online on the City's website  and social media. The top three shoebox creations will be on display at the City's premier multicultural event, Irvine Global Village, October 9 at the Orange County Great Park. Visit cityofirvine.org/shoebox for entry requirements and more information.  
50th Anniversary Photo Frame Tour

"Say Cheese" and pose for a picture behind our 50th Anniversary photo frames! Snap a picture at the permanent frame which is located at the Orange County Great Park Palm Court. Or, take a picture with our traveling frame which will be stationed at our special events throughout the City through the end of the year. View the schedule below to ensure you leave your mark on history with the City of Irvine. Make sure you post to social media and use the hashtag #Irvine50thPhotos to join in on the celebration!
| | |
| --- | --- |
| Location: | Dates: |
| Irvine Civic Center | Through October 4 |
| Orange County Great Park & Irvine Global Village Festival | October 4-October 19 |
| Irvine Civic Center | October 19-end of the year |
Youth Action Team Pick-Up 50 Challenge
Ongoing

Keep Irvine clean as we turn 50! Join the Pick-Up 50 Challenge, where participants are asked to go out into their community, pick up 50 pieces of trash, and then challenge their friends and family to do the same. Free challenge clean-up kits are available at various community centers. Learn more at cityofirvine.org/pickup50.
City of Irvine & Asparagus
Ongoing
Learn about the official vegetable of the City of Irvine: asparagus! Read tips on planting your own to honor the City's 50th anniversary. Learn more at cityofirvine.org/asparagus.
Upcoming Events
Orange County Soccer Club Irvine Night
October 20
7 p.m.
Great Park Championship Stadium
In celebration of the City's 50th anniversary, the Orange County Soccer Club is hosting Irvine Resident Night Saturday, October 20 at 7 p.m as they take on the San Diego Loyal Soccer Club at 
Great Park Championship Stadium. All Irvine residents are eligible to receive an exclusive discounted ticket of $15 for reserved seats and $10 for general admission simply by entering your Irvine zip code on the special ticket offer website. Only physical zip codes will be accepted. PO Box zip codes will not be eligible for a discounted rate. 
In addition, a COVID-19 vaccine clinic will be offered by Hoag Hospital, and visitors can enjoy Cheap Eat specials prior to the game. Visit with local Irvine businesses and celebrate small business at Championship Soccer Stadium at Great Park.
Buy your discounted tickets at fevo.me/irvine50 by entering your Irvine zip code. 
50 for 50 Fitness Challenge
Irvine Seniors, let's get moving in celebration of Irvine's 50th Anniversary with the 50 for 50 Fitness Challenge, October 4 through December 31. Run, walk, bike, swim, or skate in order to complete 50 miles on your own time at any desired location. Upon completion each challenger will receive a
certificate and medal at the 50 for 50 Finisher's Celebration. Registration is $5 for seniors ages 50 and older. Sign up now and browse all available classes and activities at yourirvine.org. 
50th Anniversary Photo Contest Exhibition
Irvine Civic Center
Opening: December 6; Exhibition Reception: December 14
In honor of the City's 50th Anniversary in 2021,  we invited residents, businesses, and visitors to help us celebrate by partaking in our photo contest by submitting photos that capture the essence of Irvine — our neighborhoods and residents, open space, history, and events. Winning photos in each category will be displayed at a photo contest exhibition at the Irvine Civic Center beginning December 6, and the winning photographers will be invited to a reception event December 14. Winners will be contacted upon selection. 
Past Events
Mid-Autumn Festival  
September 21, 6-9 p.m.

Many residents and visitors celebrated good fortune with friends, family, and our community under a full moon on the Balloon Lawn. Live music, moon cakes, food trucks, tea, and crafts were enjoyed. 
Studio 50 Dance Party
Saturday, August 28, 6-9:30 p.m. at Great Park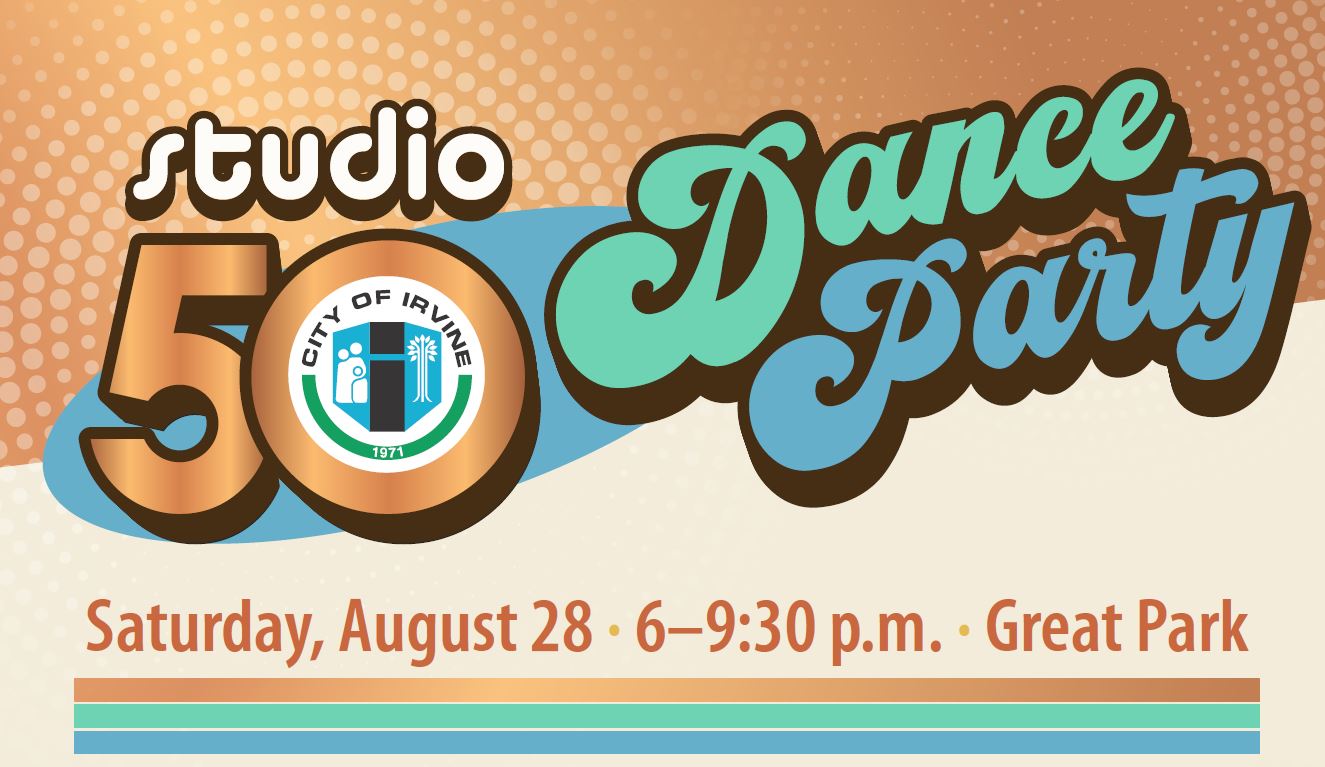 Residents put on their best disco-era attire and grooved to retro sounds at the free dance party for all ages. The party started with a live DJ and continued with a seventies-inspired set from local favorite Southland Mega Groove. View photos from the event to relive the fun!
Irvine Animal Care Center Virtual 5K
April 1-30

Residents honored the City of Irvine's 50th anniversary while running or walking the Virtual 5K. Special "5K + 50" bonus activities were announced through social media during April, giving participants the chance to share what they love about Irvine and the Irvine Animal Care Center. Learn more at irvineanimals.org.
2021 High School Art Exhibition
April 12–May 14
Each year, the Irvine Fine Arts Center invites high school artists to submit their work for a professionally juried show. This year, to continue to celebrate the City's youngest creatives, the annual High School Art Exhibition was held online. Artworks featured in this year's exhibit included drawings, painting, ceramics, digital media works, and illustrations.
Center staff developed an online exhibition with photos of the work as well as a digital exhibition catalog, highlighting submissions from Beckman, Crean Lutheran, Irvine, Portola, University, and Woodbridge high school students. The catalog and online exhibition are available here. 
Arbor Day 50th Anniversary Celebration 
April 30
In honor of Arbor Day and the City's 50th anniversary, the City's Youth Action Team, volunteers, and City staff planted 50 trees throughout Col. Bill Barber Marine Corps Memorial Park. With more 550,000 trees, Irvine has been designated as a "Tree City USA" for over 30 years, and the planting of new trees helps keep this designation. 
In addition, a memorial bench was installed at the park to honor those who have lost their lives due to COVID-19.
Watch the video on this event to learn more about the celebration and how we are making a difference for the community and the environment.