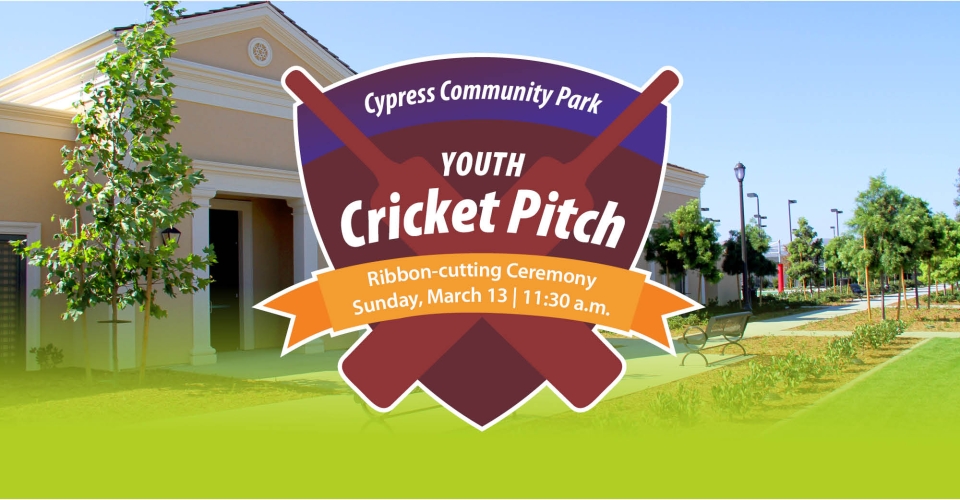 The City of Irvine is excited to announce the first designated youth cricket pitch in Irvine will open Sunday, March 13, at Cypress Community Park. Construction began in January 2022, and the official opening will be celebrated with a ribbon-cutting ceremony at 11:30 a.m. on opening day, Sunday, March 13.
The new, lighted natural grass pitch is 78 feet by 27 feet, with an outfield radius of 155 feet. In the spring, the pitch will be available for youth cricket activities offered through the Southern California Youth Cricket Academy and the Southern California Cricket Association Youth. The pitch is open to youth cricket enthusiasts when not reserved. Visit cityofirvine.org/fields to learn more.
"The popularity of cricket has grown over the past several years in Irvine, and this new pitch is foundational for the growth of our new youth cricket camps and activities," said Irvine Mayor Farrah N. Khan. "Thank you to the community for working with City staff on this project so kids can enjoy playing cricket in addition to all of our other great youth sports."
Cypress Community Park is approximately 17.9 acres and also features sports amenities including a baseball diamond, basketball court, tennis courts, and softball/soccer overlay field. Additional park amenities include barbecues, picnic areas with tables, children's play areas, and restrooms. It is located at 255 Visions in Irvine.
Learn more about Irvine's parks at cityofirvine.org/parks.