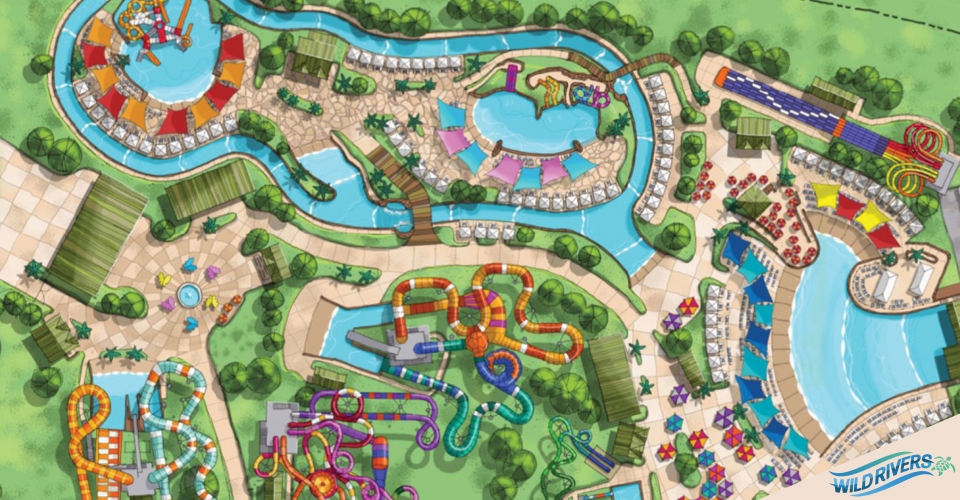 Construction on the 20-acre Wild Rivers Water Park at the Orange County Great Park began July 7 and may and may open as early as summer of 2022. 
In April 2020, the Irvine City Council approved a location and lease for the water park. In November, the Irvine Planning Commission voted unanimously to approve the conditional use permit for the project at the southeast corner of Great Park Boulevard and Skyhawk.
Wild Rivers' plans include multiple components including in-ground slides, pools, and thrill slides. As currently proposed, there will be 20 attractions available on opening day, with additional attractions planned for the future, including a potential 3-acre expansion. 
Development plans show attractions organized into three sectors:
Southwest Sector

Adventure River 
Kids' slides
Shallow Activity Pool (the Island)
Multilevel play structure

Southeast Sector

Family Raft Rides
Tube Slide Complex
Drop slides and body slides

Northern Sector
Adjacent to the water park will be a new city parking lot with approximately 1,230 parking spaces. The lot will be available exclusively for the water park when it is in operation from mid-May through mid-September, and it will be available for other uses within the Great Park the remainder of the year. The City of Irvine will construct the parking lot, but will lease the facility to Wild Rivers.
For more information about Wild Rivers, please visit our Wild Rivers Fact Sheet webpage. To learn more about future development at the Orange County Great Park, visit our Orange County Great Park Planning and Development webpage.