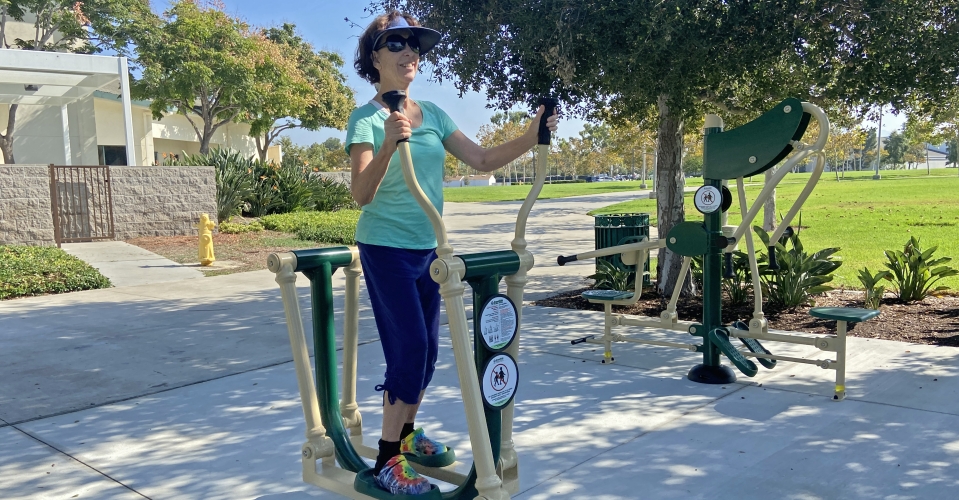 Wednesday, August 24, 2022
The City of Irvine completed installation of outdoor fitness equipment near Lakeview Senior Center, now open to the public. The exercise equipment is located just outside the Lakeview Senior Center patio, in Mike Ward Community Park – Woodbridge.
Four exercise stations offer opportunities for community members 14 and older to exercise outdoors. While the exercise area will be open to the public for drop-in use during park hours, staff selected equipment that would encourage use by older adults, including stations accessible for those who use wheelchairs or other mobility devices.
The project completion coincides with the upcoming Senior Fitness Expo, an annual health and wellness fair moving to the Lakeview Senior Center this year. The 13th annual expo takes place Friday, August 26, 9 a.m.–12:30 p.m. This free event, geared toward adults 50 and older, features health screenings, educational presentations, and a wide variety of the latest health and fitness exhibitors.
Lakeview Senior Center and Mike Ward Community Park – Woodbridge are located at 20 Lake Road in Irvine. The park is open 6 a.m.–10 p.m. daily. For more information about Senior Fitness Expo, visit irvineseniors.org/expo or call 949-724-6900.