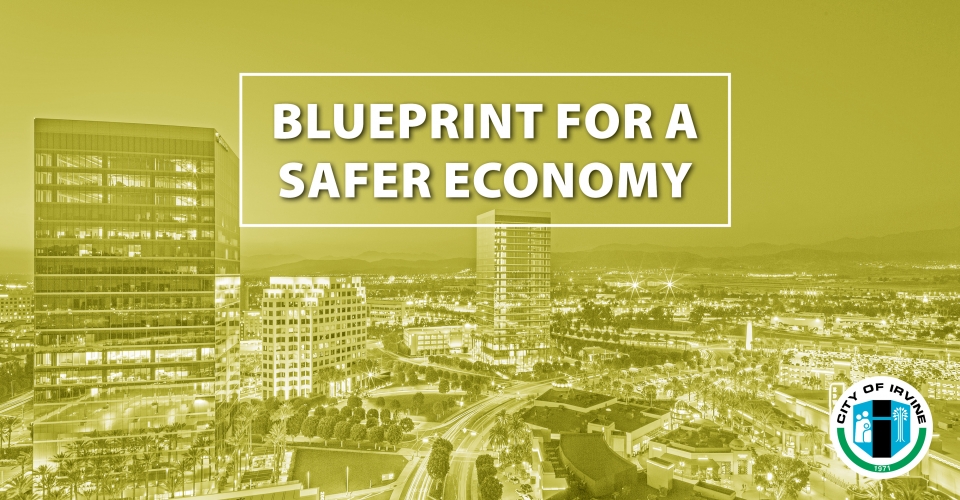 Effective May 19, Irvine and Orange County move into the Yellow Tier in the state's Blueprint for a Safer Economy. The transition to the Yellow Tier is a result of tracked case rate data falling below the two cases per 100,000 residents threshold.
You can view a complete list of sector operations allowed in each tier from the California Department of Public Health. Visit our COVID-19 resource page for City facility updates, and other City-related information.
In addition, on June 15 all industries across the state can return to usual operations with common-sense risk reduction measures such as vaccinations and masking at large-scale indoor events  so long as COVID-19 case rates and hospitalizations remain stable. For further details visit covid19.ca.gov.
In the Yellow Tier, the following business sectors are amended and allowed to operate as follows: 
Sector
Orange Tier
Yellow Tier
Retail
Open indoors with modifications
Open indoors with modifications
Shopping Centers

Open indoors with modifications

Closed common areas
Reduced capacity food courts (see restaurants)

Open indoors with modifications 

Reduced capacity food courts (see restaurants)

Gatherings

- Social, informal gatherings

- No defined guest list required

- No testing or vaccination required

Outdoor  

Max 50 people Indoor
Indoor gatherings strongly discouraged, allowed with modifications (no food/drink except when following the standards in the guidance)
Max 25% capacity in settings where capacity limits exist or 25 people or whichever is fewer

Outdoor

Max 100 people Indoor
Indoor gatherings strongly discouraged, allowed with modifications (no food/drink except when following the standards in the guidance)
Max 50% capacity in settings where capacity limits exist or 50 people or whichever is fewer

Museums, Zoos, and Aquariums

Open indoors with modifications

Indoor activities max 50% capacity

Open indoors with modifications
Places of Worship 

Open indoors with modifications

Open indoors with modifications

Movie Theaters

Open indoors with modifications

Max 50% capacity or 200 people, whichever is fewer

Open indoors with modifications

Hotels and Lodging

Open with modifications

+Fitness centers (+25%)
+Indoor pools

Open with modifications

+Fitness Centers (50%)
+Spa facilities etc.

Gyms and Fitness Centers

Open indoors with modifications

Max 25% capacity
+Indoor pools

Open indoors with modifications

Max 50% capacity
+Saunas
+Steam rooms

Restaurants

Open indoors with modifications

Max 50% capacity or 200 people, whichever is fewer

Open indoors with modifications

Wineries, Breweries and Distilleries

Open indoors with modifications

Max 25% capacity indoors, or 100 people, whichever is fewer

Open indoors with modifications

Max 50% capacity or 200 people indoors, whichever is fewer

Bars (where no meal provided)
Open outdoors with modifications

Open indoors with modifications

Max 25% capacity indoors, or 100 people, whichever is fewer

Family Entertainment Centers

Indoor

Max 25% capacity
50% if all guests are tested or show proof of full vaccination With modifications
100% masking except for food and beverage service
Food/beverage consumption must be restricted to designated areas separated from activity area
Service of alcohol without meals must follow bar guidance (outdoor only)

Indoor

Max 50% capacity
75% if all guests are tested or show proof of full vaccination With modifications
100% masking except for food and beverage service
Food/beverage consumption must be restricted to designated areas separated from activity area

Cardrooms, Satellite Wagering

Open indoors with modifications

Open indoors with modifications

Offices

Open indoors with modifications

Open indoors with modifications

Outdoor Live Events with Assigned Seats and Controlled Mixing (e.g., sports and live performances)

Max 33%, includes suites with 25% occupancy per suite
Weekly worker testing program
In-state visitors only, check for current CDPH Travel Advisory in effect
Indoor concessions in designated areas
Max 67% if all guests are tested or show proof of full vaccination

Max 67%, includes suites with 25% occupancy per suite
In-state visitors only, check for current CDPH Travel Advisory in effect
Indoor concessions in designated areas

Amusement Parks/ Fairs

Max 25%

Indoor capacity max 25% with time restrictions
Weekly worker testing program
With other modifications
In-state visitors only, check for current CDPH Travel Advisory in effect  

Max 35%

Indoor capacity max 25% with time restrictions
Weekly worker testing program
With other modifications
In-state visitors only, check for current CDPH Travel Advisory in effect 

Water Parks

Outdoor parks must limit visitors to a maximum of 25% capacity 
Indoor parks, pools, and rides limited to a maximum of 15% capacity
Indoor dining limited to a maximum of 25% capacity  
Walk-up ticket sales allowed. Park operators must collect complete name and contact information (including a phone number) of the ticket purchaser for necessary contact tracing

Outdoor parks must limit visitors to a maximum of 40% capacity
Indoor parks, pools, and rides limited to a maximum of 25% capacity
Indoor dining limited to a maximum of 50%
Walk-up ticket sales allowed. Park operators must collect complete name and contact information (including phone number) of the ticket purchaser for necessary contact tracing

Overnight Sleepaway Camps 

Effective June 1, 2021:

Open with modifications

Effective June 1, 2021:

Open with modifications