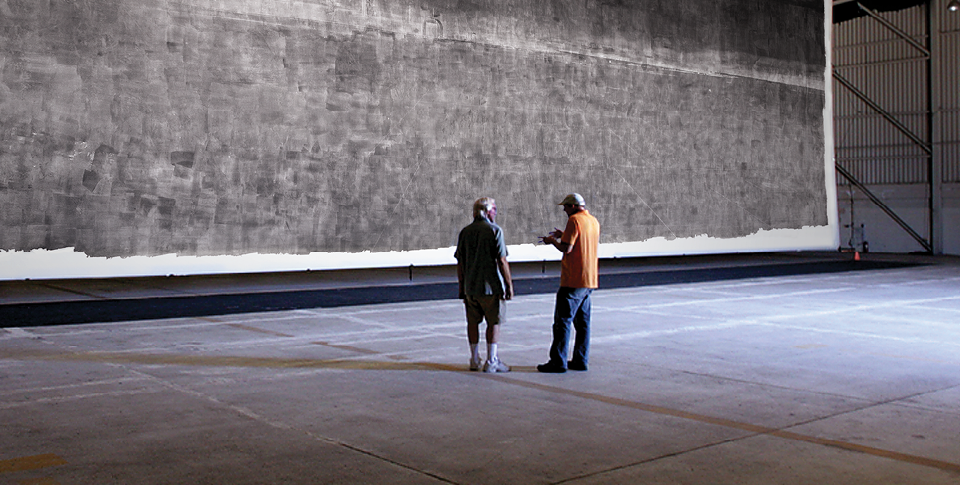 The City of Irvine is pleased to present the upcoming exhibit, The Great Picture: Making the World's Largest Photograph, at the Great Park Artist Studios –– opening Sunday, February 19 and concluding Saturday, May 7.
A group of six photographers – known as The Legacy Project – created The Great Picture. Using the world's largest camera, this group of photographers were able to capture the world's largest photograph –– measuring three stories high by eleven stories wide (31 by 111 feet). The photo, taken on July 12, 2006, depicts a panoramic view of the former El Toro Marine Corps Air Station, which closed in 1999. To create the image, members of The Legacy Project (Jerry Burchfield, Mark Chamberlain, Jacques Garnier, Rob Johnson, Douglas McCulloh, and Clayton Spada) converted a hangar into a pinhole camera; an ancient image-making technique discovered by the Chinese in the 4th century BC.
The desolate tone conveyed is punctuated by bare runways and abandoned structures –– emphasized by grey hues formed from the gelatin silver process. The Great Picture: Making the World's Largest Photograph highlights a combined sense of the nostalgia and melancholia associated with the station's closing. This project is a complex and multi-faceted statement about the history of photography, its changing technology in the digital age, and the interchange between process and subject matter in the making of a photograph.
Great Park is located at 8000 Great Park Blvd., in Irvine. Great Park Artist Studios hours are Saturday and Sunday, 10 a.m.–4 p.m. The exhibit and parking are free. For more information, visit yourgreatpark.org/arts or call 949-724-6247.