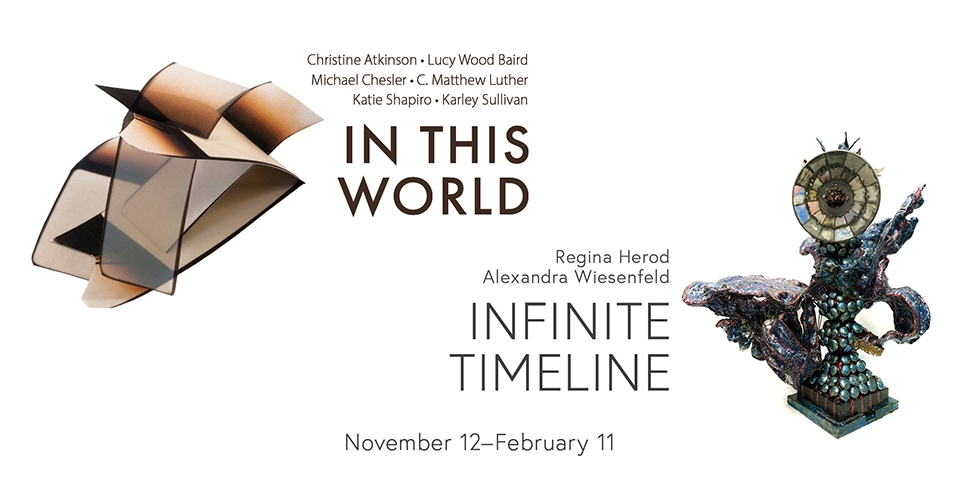 Thursday, October 27, 2022
The Irvine Fine Arts Center is pleased to announce the opening of two new fall exhibitions: In This World and Infinite Timeline. The exhibitions run concurrently Saturday, November 12, through Saturday, February 11. A free opening reception with the artists is Saturday, November 19, 2–4 p.m., and is open to the public.
Presented in the Main Gallery, In This World evaluates moving through the world with pocket-sized time machines. Modern humans exponentially create, share, manipulate, and duplicate images imbued with the spirit of their space and time. Despite the pervasiveness of images and image-making devices in contemporary life, the alchemic potential of both remains a wellspring of possibility to reimagine the world or draw us into its lesser-explored corners. Featuring artwork by Christine Atkinson, Michael Chesler, Lucy Wood Baird, C. Matthew Luther, Katie Shapiro, and Karley Sullivan, In This World transforms—conceptually and materially—subjects anchored in the everyday into thoughtful, speculative, and imaginative encounters that invigorate the act of viewing with curiosity and sentiment.
Showing in Gallery 1, Infinite Timeline features sculptural works by Regina Herod and paintings by Alexandra Wiesenfeld that explore the mutability of history and storytelling as they relate to themes of nature, reason, and empire. In their approach to producing works featured in the exhibition, each artist employed repurposed materials such as wax, wood, metal, paper, or plastic as a means to draw to mind the cyclical generation of new life from the detritus of history. Herod and Wiesenfeld's works share a deep consideration of the forces that define our general understanding of the past and a critical attention to the conditions that shape the future.
Gallery hours are 10 a.m.–9 p.m. Monday–Thursday, 10 a.m.–5 p.m. Friday, and 9 a.m.–5 p.m. Saturday. The opening reception, exhibitions, and parking are free. The Irvine Fine Arts Center is located in Heritage Community Park at 1432 Yale Ave. For more information, visit irvinefinearts.org or call 949-724-6880.