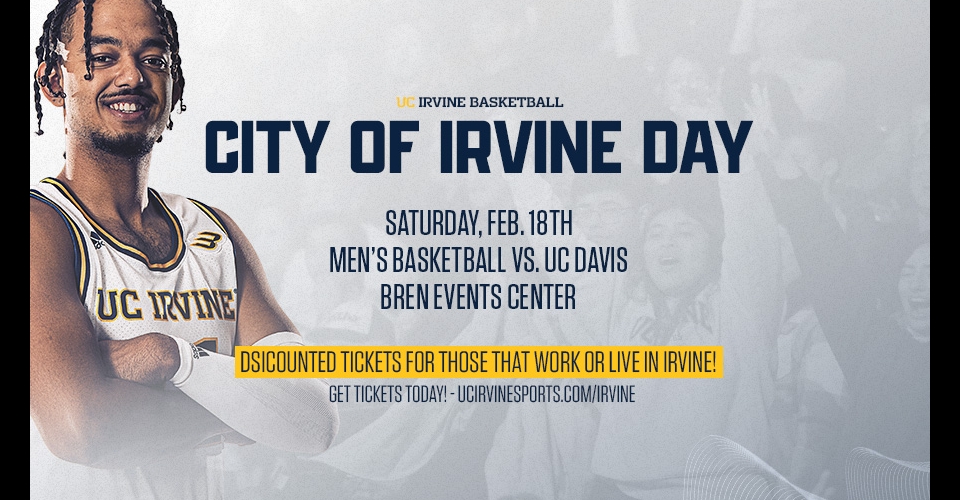 Tuesday, February 7, 2023
The University of California, Irvine is collaborating with the City of Irvine to host City of Irvine Day at the Bren Events Center on February 18. Residents are invited to watch the UCI men's basketball team take on UC Davis on a day celebrating the relationship between the city and the university.
"Sports and education continue to be fundamental to the success of any great city, including Irvine," said Irvine Mayor Farrah N. Khan. "Through a continued partnership with UCI, I'm thrilled to bring another City of Irvine Day to residents and visitors alike. Together, we can continue to support our local university and the Anteaters while increasing community through family-friendly, fun-filled events and celebrating the City we call home."
In a 10-year span, UCI men's basketball claimed five Big West regular-season championships – in the 2013-14, 2015-16, 2016-17, 2018-19 and 2019-20 seasons – and two Big West Tournament titles in 2014-15 and 2018-19. The Anteaters have made six postseason appearances under coach Russell Turner, most notably in 2019, when they advanced to the second round in the NCAA tournament. The UCI men's basketball program is known for its strong commitment to student-athlete development and its emphasis on teamwork, sportsmanship and excellence on and off the court.
"We are excited to host the Irvine community for an afternoon of basketball and fun," said Paula Smith, UCI's athletic director. "We are grateful for our wonderful relationship with the residents of Irvine and look forward to continued engagement and collaboration."
The event will tip off at 1 p.m. Saturday, February 18, at UCI's Bren Events Center. Discounted tickets for both sideline and center-court seating are available at ucirvinesports.com/irvine. Opportunities to organize friends, family members, neighbors and colleagues for this special ticket offer are also available here. For UCI's clear-bag spectator policies and general information, visit ucirvinesports.com.