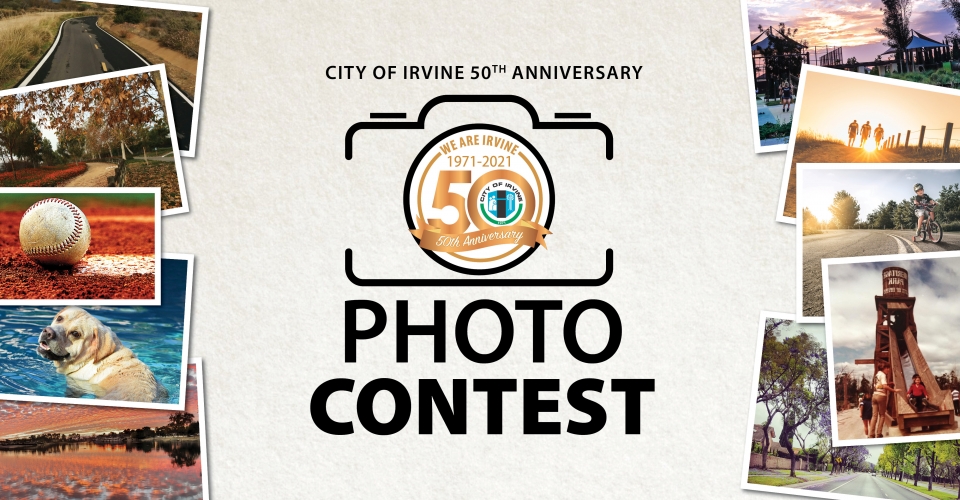 In honor of the City's 50th Anniversary in 2021, we invite residents, businesses, and visitors to help us celebrate by partaking in our photo contest! The contest aims to capture the essence of Irvine — our neighborhoods and residents, open space, history, and events. 
Photos can be submitted for inclusion in the contest from May 1 to August 31, 2021 at 5 p.m. Pacific Standard Time (PST). Except for the Historical category*, photographs must have been taken within the past five (5) calendar years (since January 1, 2016). Please submit photos that fall into the following five categories:
Culture & Community: Show us the events, celebrations, and programs you have enjoyed in Irvine over the past 50 years.
Historical: Images can include significant events, buildings, figures, landscapes, and community activities from Irvine's past. *Please submit photos that were taken prior to the year 2015.
Outdoors: Help us showcase Irvine's beautiful parks, open space, nature, and wildlife.
Pets: Don't forget to highlight your furry friends. Send us your best pics of pets or images that capture the essence of what the City's Irvine Animal Care Center does best — providing shelter, care, and enrichment for homeless animals.
Ages 17 and under – we want to hear from you. Give us your photo perspective of what living in Irvine means to you, or perhaps show us what the pandemic looked like for you, your family, and friends.
Winners in each category will be revealed in the winter issue of Inside Irvine — the City's award-winning quarterly magazine and activity guide, in addition to being featured at an exhibition at the Irvine Civic Center. One grand prize winner will receive a $250 gift card to the Irvine Spectrum Center.