MIKE HAMEL
Chief of Police
Irvine Police Department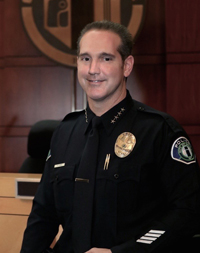 Chief Mike Hamel was sworn in as Chief of the Irvine Police Department (IPD) in 2015. He is a 25-year law enforcement veteran who has been with IPD since 1995 and is the first Irvine Police Chief to rise through the ranks from police officer to Chief from within the IPD organization.
Chief Hamel began his law enforcement career in 1993 with the Los Angeles Police Department, where he was the Honor Graduate from the Los Angeles Police Academy. In 1995, he laterally transferred to IPD, where he has worked in various assignments including as a patrol officer, field training officer, Special Weapons and Tactics officer, crimes against persons detective, and community service officer coordinator.
In 1999, he was promoted to the rank of sergeant and served as a patrol sergeant and the Crimes Against Persons Detective Sergeant, for which he received a 2002 IPD Meritorious Service Award. He was again promoted in 2004 to the rank of lieutenant, first assuming responsibility for the IPD Investigations Bureau and then as the Training and Recruitment Lieutenant. In 2007, Chief Hamel was promoted to Area Commander and assumed full responsibility for crime, traffic and quality of life issues in his geographic region. During this time, he also served as the area liaison to schools, businesses, community organizations and the public. In 2012, he was promoted to Deputy Police Chief, responsible for the day-to-day operations of the Department. He served in this role until his appointment to the role of Chief of Police by former Irvine City Manager Sean Joyce and approval by the Irvine City Council.
Chief Hamel is a Governing Board Member for Community Services Programs – Victim Assistance Programs (CSP- VAP) and has served as a Board Member for Team Kids, Inc. He has been recognized for his work in victim advocacy programs, receiving awards including the Ambassador of Peace award from the Violence Prevention Coalition of Orange County and the Outstanding Victim Service Provider from CSP-VAP. In 2007, he authored a countywide model for comprehensive victim services that was adopted by the Orange County Chiefs' of Police and Sheriff's Association.
Under his leadership, a comprehensive, evidence-based health and fitness program has been implemented at IPD, designed to enhance overall Department wellness while reducing the risks of on-the-job injuries.
Chief Hamel holds a Master's degree in Public Policy Administration from California State University, Long Beach, and a Bachelor of Arts degree in Criminology, Law and Society from the University of California, Irvine. He is a graduate of the Sherman Block Supervisory Leadership Institute, the International Association of Chiefs' of Police Leadership in Police Organizations Program, and Peace Officer Standards and Training Command College, where he was selected as his class' Most Inspirational Student.