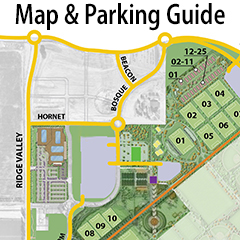 The Orange County Great Park has entry points at Marine Way, Trabuco/Great Park Boulevard and Ridge Valley. View a high-resolution map with parking guide here, and see driving directions and park hours below.
Memorial Day Hours
Please note: Many amenities in the Orange County Great Park are open to visitors this Memorial Day on Monday, May 28:
Balloon: 10 a.m.-3 p.m.; 7-10 p.m.
Carousel: 10 a.m.-10 p.m.
Gallery & Artist Studios: Closed
Heritage & Aviation Exhibition: 10 a.m.-4 p.m.
Farm + Food Lab: 10 a.m.-3 p.m.