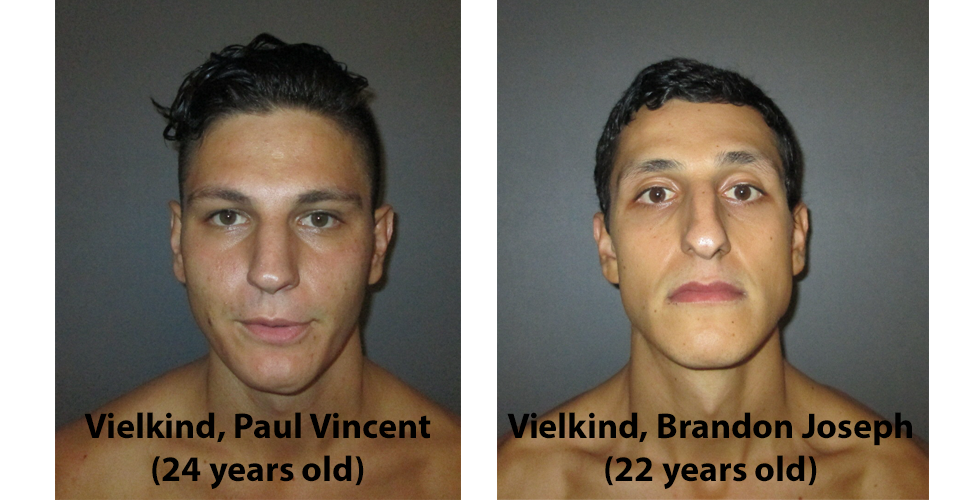 Irvine, Calif. (Aug. 31, 2017) – The Irvine Police Department has arrested two men who broke into Harvest Church on Wednesday night. Brothers Paul Vincent Vielkind, 24, and Brandon Joseph Vielkind, 22, of Riverside are charged with burglary and felony vandalism.
On Thursday around 7:10 p.m., a security guard at a neighboring business reported to police that two males approached the north side of the church carrying what appeared to be a rifle. The suspects smashed a glass door to gain entry to the church, which was unoccupied at the time.
Irvine Police Department officers responded and the IPD SWAT team was called to the scene. Police were able to watch a video feed of the suspects thanks to surveillance cameras inside the church. Around 9:20 p.m., the suspects threw a smoke bomb outside of the church and exited the building, one without clothing and one partially clothed. Both were taken into custody without incident.
Police then worked to clear the scene and search for weapons. No one was else was found inside the building, and police do not believe there are any suspects outstanding. No weapons were located at the scene; however, what appears to be a replica rifle was found.
The suspects' motive is not known at this time. The Irvine Police Department is investigating any possible connection the suspects may have to the church. The investigation in this case is ongoing. Anyone with information is asked to call the Irvine Police Department at 949-724-7000.
###