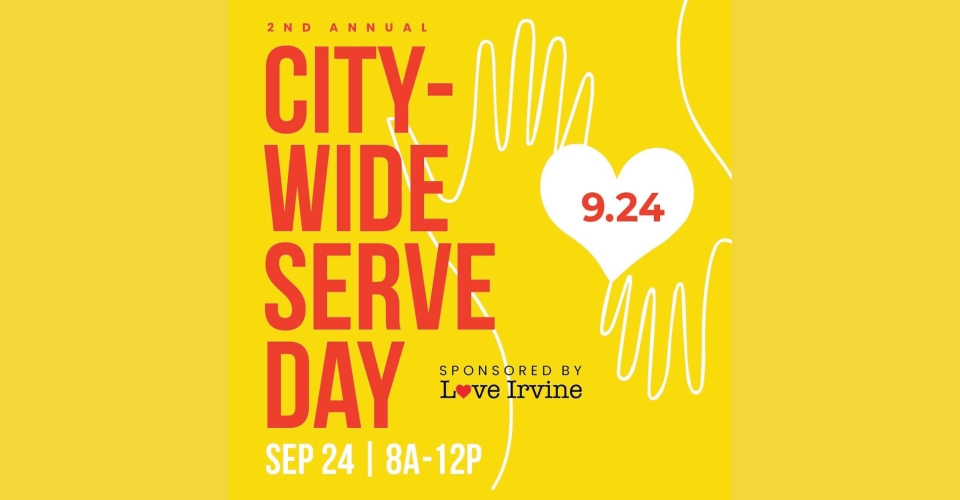 The City of Irvine has partnered with Love Irvine for the second annual Citywide Serve Day Saturday, September 24, from 8 a.m. to noon. This partnership connects people who want to help those in need with volunteer opportunities at various nonprofit service providers, faith-based organizations, government entities, and schools.
As part of Love Irvine's 2022 Citywide Serve Day, the City of Irvine will host multiple community events, including a volunteer opportunity at Harvest Solutions Farm, where participants help fulfill Second Harvest Food Bank's mission to provide dignified, equitable, and consistent access to nutritious food for all in Orange County. Volunteers will help by planting, harvesting, weeding, and maintaining the farm fields of Harvest Solutions Farm. View an event flier, map and directions, and volunteer information at Harvest Solutions Farm. 
"I'm thrilled that the City of Irvine is partnering with Love Irvine again this year to help make our community stronger and more resilient," said Mayor Farrah N. Khan. "I hope many of you will join me at Harvest Solutions Farm to experience a day of farming while demonstrating love and kindness."
Additional Citywide Serve Day volunteer opportunities are available through Love Irvine for September 24. Two noteworthy opportunities are Teach Our Seniors Technology and 2/11 Marines Battalion: Welcome Home Fit Packages Packing Event. To view and register for other Citywide Serve Day projects, visit loveirvine.org.
These are volunteer opportunities for the entire community to work together to serve and make a difference in Irvine. Volunteers can register online at Love Irvine and will report their respective volunteer locations. Please note that if registering for the Second Harvest Food Bank event at Harvest Solutions Farm, please download their volunteer waivers and bring them signed to the event. 
Love Irvine leads communitywide volunteerism and initiatives in the City. Love Irvine works with nonprofit service providers, schools, and government entities to vet out needs that people in the community have. They then connect to faith-based organizations, businesses, and individuals to present those needs as simply and straightforward as possible.
For more information about Love Irvine and to sign-up for the Citywide Serve Day or other volunteer opportunities, please visit loveIrvine.org.