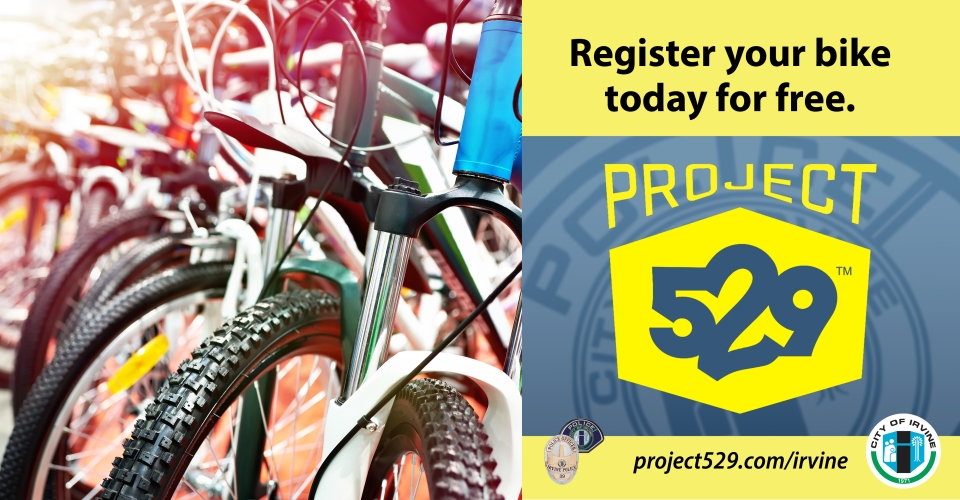 The Irvine Police Department has partnered with Project 529 to give Irvine residents a quick and easy way to register their bikes with the City. 
Project 529 Garage offers a platform for residents to provide contact information and upload photos of their bike to help with identification in case it is lost or stolen. By registering you increase your chances of having your bike returned.
To register, visit project529.com/irvine, or you can do so by using the Access Irvine app. If you previously registered your bike with the Irvine Police Department, you are encouraged to register with Project 529 as the program has enhanced features and incorporates an international network of bike registrations and law enforcement agencies. 
If your bike is stolen, residents should use the button in the app or website to make note of the incident. You should also file a police report with the Irvine Police Department.
Help prevent bike theft by following the safety tips below:
Always lock your bicycle to secure object like a bike rack or something secure that cannot be easily broken, cut or removed.
Make use of bike lockers when available.
Consider adding a tracking device to your bike.
Use a U-lock to secure your bike frame and wheel to a bike rack.
Store your bike inside your residence or in a garage where it can be hidden from public view; make sure your garage or storage is secured and checked on regularly.
For more information regarding bike safety, visit the Irvine Police Department's website.