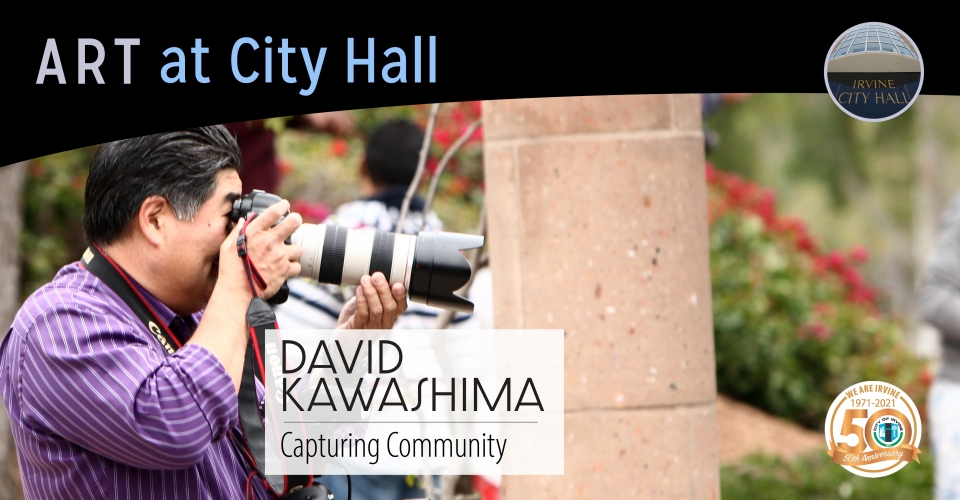 The City of Irvine is honoring longtime City photographer David Kawashima with an art exhibition of his photographs at the Irvine Civic Center. The David Kawashima: Capturing Community exhibition, part of the ongoing Art at City Hall series, opened September 16, with a free reception open to the public held from 5 to 7 p.m.
David Kawashima was a talented photographer who worked with the City for nearly 15 years. David's talent behind the lens was beyond technical, leading to images that captured the spirit of the community. From large events like the Irvine Global Village Festival to documenting major City milestones to photographing visitors on a trail at sunset, David captured the story behind the photo. His thoughtful and skillful work left a visual archive of Irvine community, place, and history.
"Over the years, David documented countless milestones, celebrations, meetings, events, presentations, ensuring these moments in Irvine's history could be permanently preserved," said Mayor Farrah N. Khan. "We are extremely grateful to have had the privilege of knowing and working with David, and we offer our sincere condolences to all who knew and loved him."
In addition, and at the City Council's direction, David's name was also added to the City's Wall of Recognition at Col. Bill Barber Marine Corps Memorial Park and a photography studio at Irvine Fine Arts Center was renamed in his honor.
David earned his Bachelors of Art degree from the University of California Los Angeles. His work was featured in numerous regional and nationwide publications. In addition to being a contract photographer for the City of Irvine, he also worked for notable clients including ESPN, Kingston, Orange County Metro, Orange County United Way, The Los Angeles Times and Toshiba. Beyond his impressive resume and professional accomplishments, David was a beloved brother, son, partner, stepfather, and friend to many. He was also an avid fan of the UCLA Bruins, a lover of music and animals, and a selfless caretaker to his family.
This curated selection of David's photography honors his contributions to the City. For more information about the exhibition and the reception, please visit cityofirvine.org/artatcityhall.