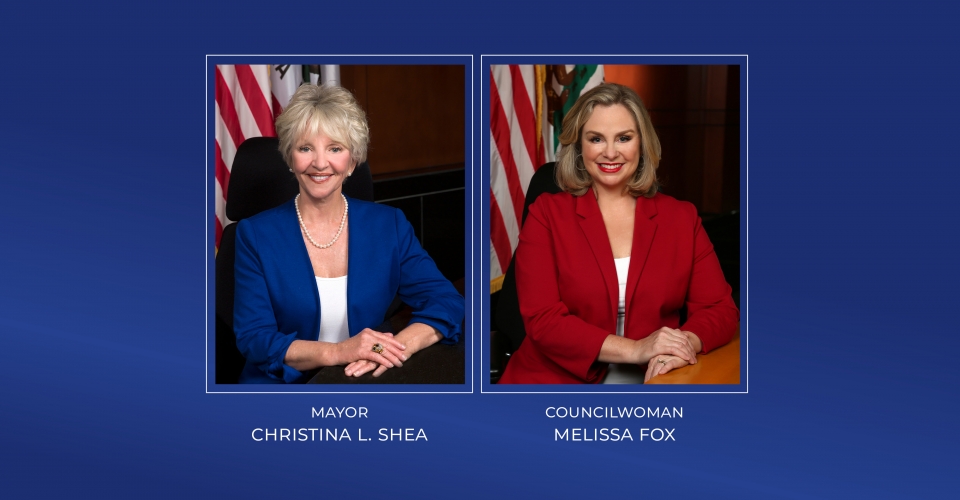 Mayor Christina Shea and Councilmember Melissa Fox were honored for their dedicated public service during a special presentation which was held on Tuesday, November 24 in the City Council Chamber. Due to COVID-19 safety guidelines, the presentation was closed to the public, but is available to view on the City's website and on ICTV.
Mayor Shea has served 26 years on the Irvine City Council since she was first elected in 1992. She has served as Chair of the Foothill/Eastern Transportation Agency, a member of the Southern California Association of Governments Regional Council, and as a Board Member of the Orange County Sanitation District. She has also been a champion for the use of organic pesticides at City facilities. In 2016, she brought forward a proposal to make Irvine one of the first cities in the U.S. to use only organic pest abatement practices in the City's parks, green belts, and open space. This approach to pest abatement has since been adopted by over 160 communities across the country.
Councilmember Fox has served on the City Council since 2016. She has served on multiple local and regional agencies, including the Orange County Fire Authority, Community Energy Partnership, and Library Advisory Board of Orange County Library System. Prior to her election to the City Council, she served for four years on the Irvine Community Services Commission. She is a past president of the California National Women's Political Caucus and has advocated for increasing the participation of women in government and civic affairs.
To view the presentation, visit cityofirvine.org/ictv or tune in to ICTV on Cox Communications Channel 30 or on AT&T U-verse Channel 99.
Watch Mayor Shea's Video Tribute