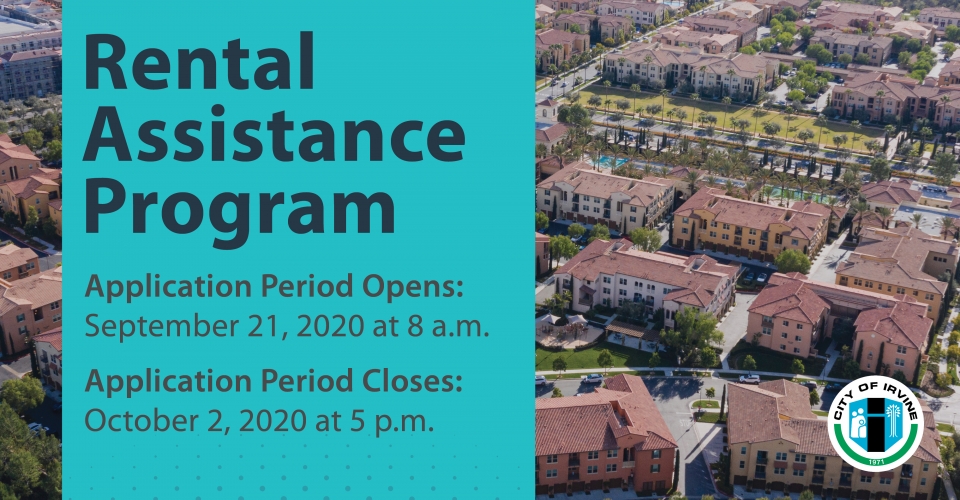 OVERVIEW
To mitigate the impact of COVID-19 on Irvine's residential renters, the City of Irvine has committed its allocation of approximately $2,000,000 in one-time federal CARES Act funding to create a rental assistance program. The City of Irvine is now accepting applications for the second round of the Rental Assistance Program.
Per City Council direction in June 2020 to assist Irvine renters directly impacted by the COVID-19 pandemic, staff has developed the following rental assistance program:
A maximum one-time $1,000 grant to provide 1,000 individuals/households with assistance to pay lease termination fees.
A maximum one-time $1,000 grant to provide 1,000 individuals/households with rental payment assistance.
The application period for the first round of rental assistance funding concluded on July 24, which resulted in 1,767 approved applications. It is the desire of the City to fulfill its commitment to be able to assist approximately 2,000 individuals in the community that can demonstrate a sufficient COVID-19-related financial hardship, including students in non-university housing. Therefore, the City is excited to announce this second round of funding for the rental assistance program. This second round will assist between 200-250 additional residents within the City. This program is only eligible to residential renters and is not available to commercial, industrial or other types of business-related tenants.
The deadline for submitting an application in this second round is October 2, 2020 at 5 p.m. Any applications received after this date will not be eligible.  After the closure of the application period, a lottery system will be used to select grant recipients, in order to provide equitable access for all Irvine renters. Once the lottery is completed and eligibility is confirmed, grant checks will be processed and mailed as described below.  
Eligibility:
To qualify for participation in the Rental Assistance Program, residential renters must meet all of the following criteria:
Must be a residential renter in the City of Irvine.
​Must have a current and valid lease or proof or rent payment history.
Renter must demonstrate a financial hardship as a direct result of the COVID-19 pandemic.
Must not have received other rental assistance from any governmental agency, including rental assistance/lease termination fee funding as part of the first round of this rental assistance program.
APPLICATION PROCESS AND TIMELINE
Grant applications can be accessed by clicking on the 'Online Application' button below
​The application period will open on Monday, September 21, 2020 at 8 a.m. and close at 5 p.m. on Friday, October 2, 2020.
The lottery will be conducted on or around October 5, 2020 and complete applications will be reviewed for eligibility immediately.
In all cases, the City reserves the right to reject any and all applications in the event the City identifies a potential conflict of interest or the appearance of a conflict of interest.
Submission of an application in no way obligates the City to award a grant and the City reserves the right to reject any or all applications, wholly or in part, without penalty.
If awarded, this application becomes a binding contract between the applicant and the City of Irvine.
Grant funds will be awarded as follows by either: 1) a check mailed directly to the landlord's address provided on the application upon approval of the application; or 2) a check mailed directly to the applicant and made payable to both the applicant and landlord, and applicant submits check to landlord directly (requires both parties to sign check).
CONTACT INFORMATION 
FREQUENTLY ASKED QUESTIONS
Applications must be submitted via the online portal. Hand delivered, emailed, or mailed applications will not be accepted. 
Rental Assistance Program Application