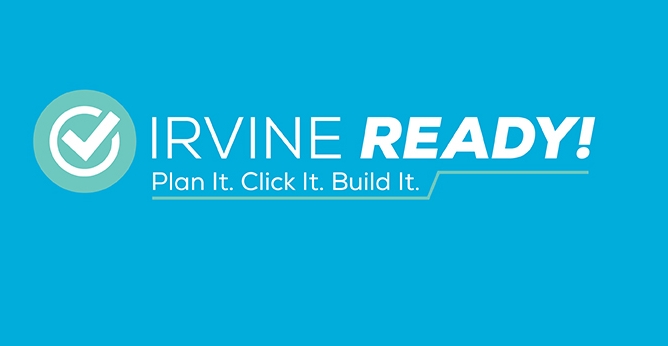 With IrvineReady!, All Entitlement, Planning, Building, and Engineering applications, reviews, fees, and issuances can be managed over the web, saving residents and our community partners time and money by eliminating the need to visit City Hall. Please use the information below to determine your project type and begin your all electronic permitting process today!
Plan Check and Permit Issuance
IrvineReady! Video Tutorials
*NEW - PERMIT REVISION SUBMITTAL PROCESS Updated June 2021: Click Here
*NEW - Review our updated process for ADDING CONTACTS: Click Here
*NEW - TROUBLESHOOT CONTACT SETTINGS for an existing project: Click Here
For a video tutorial on how to submit a NEW PROJECT: Click Here 
For a video tutorial on how to RESUBMIT for Plan Check Corrections: Click Here
For a video tutorial on PREPARING YOUR DOCUMENTS for online submittal: Click Here
For a video tutorial on the FINAL STEPS before Permit Issuance: Click Here
For a video explaining the meaning of your PROJECT STATUS: Click Here
IrvineReady! Required E-Submittal Documents
Please choose from the links below to access all required DOCUMENTS for your E-Plan Submittal in the Online Plan Submission Portal. Save a copy of your completed forms and upload them to the ATTACHMENTS tab in your goPost Dashboard leaving only plan sheets in the PLANS tab.
Building and Grading
Commercial Projects
Residential Projects
Grading
Entitlement/Planning
Public Works Engineering
Modified Inspections and Code Enforcement Services
(updated 05/07/21)
ln an effort to protect public health amidst the COVID-19 pandemic and consistent with the Governor's Executive Orders and guidance from regional and national public health professionals, the City of Irvine is taking additional safety precautions for Building, Grading and Code enforcement inspections. Effective Friday, May 7, 2021, the following precautions will be in effect.
lnspections of interr and exterior facilities whether occupied or unoccupied: This includes both residential and commercial construction. In-person inspections can continue with strictly enforced precautionary measures in place as follows:

Face-to-face contact will be allowed between inspectors and site personal as long as 6 feet clear distance is maintained, masks are worn and no more than three people are walking with inspectors at any time.

Prior to inspector arrival, building plans for the area subject to inspection must be placed on a flat, cleaned surface within or adjacent to the area of inspections.

Please do not call for inspections on work that is not complete and ready for inspection. This exacerbates delays due to Covid-19 and results in longer waits for inspection on all projects.

General Safety Precautions: Builders, contractors, and all personnel working on job sites subject to inspection must abide by Covid-19 precautions as outlined by the Centers for Disease Control at https://www.cdc.gov/coronavirus/2019-ncov/prevent-getting-sick/prevention.html
Helpful Contact Information
Additional Services
Still having trouble with your online submittal? The Community Development Department now offers in-person appointments to assist you with the following services:
Permit Services will be offering in-person assistance with online submittals.
Building & Safety Plan Check will be offering in-person assistance with inquiries specific to code and building standards, City specific requirements, and submittal requirements.
The Development Assistance Counter will be offering in-person appointments for more detailed or specific planning case inquiries.
Please CLICK HERE to access our Appointment Scheduling System.   
Due to our ongoing commitment to protect public health, walk-ins will not be accepted. All customers will be required to wear a face covering and maintain social distancing.