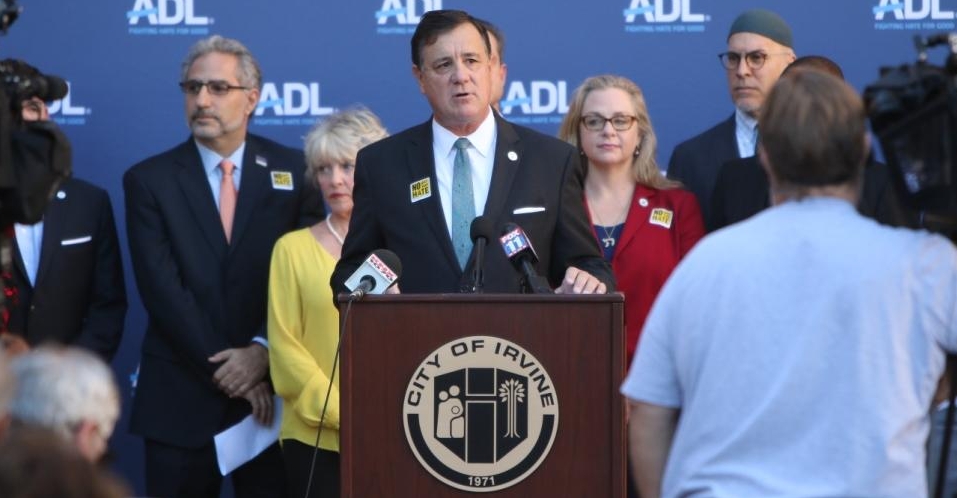 On Tuesday, November 13, the Irvine City Council approved a motion by Mayor Don Wagner to contribute $5,000 for information leading to the arrest of a suspect who vandalized Beth Jacob Congregation last month. The reward matches the $5,000 reward offered previously by the Anti-Defamation League (ADL), bringing the total to $10,000. 
"I appreciate the reward offer from the ADL. The Council and I hope that, by the Irvine community doubling it, we will generate more leads while sending the clear message that we will not tolerate hate crimes," said Irvine Mayor Don Wagner. "As I remarked at the City Council meeting last night, with this reward we say to the evil among us that if you do something to any of us, you do it to all of us, and we will come after you." 
On October 31 around 9 a.m., the Irvine Police Department received a report that an anti-Semitic comment had been spray painted along the exterior wall of Beth Jacob Congregation, 3900 Michelson Drive. The suspect was caught on surveillance video; however, the suspect's identity was concealed. The crime occurred just days after 11 people were killed at a synagogue in Pittsburgh. The incident at Beth Jacob also followed recent anti-Semitic vandalism at Irvine Valley College.
A press conference led by Irvine Mayor Donald P. Wagner and with speakers from Beth Jacob Congregation, interfaith partners, and community members was held Friday, November 2 to respond to hate crime against the Beth Jacob Congregation.
During the press conference, the Anti-Defamation League (ADL) announced a $5,000 reward for information leading to the arrest and conviction of the individual(s) responsible for the anti-Semitic graffiti at the Beth Jacob Congregation, on Wednesday, October 31. Watch ICTV for the full press conference.
Irvine City Council Matches Reward Offered in Case of Vandalism at Synagogue - November 14, 2018  
Press Conference Video - November 2, 2018
Press Conference Photos - November 2, 2018
Vandalism at Synagogue in Irvine - October 31, 2018
Incident Surveillance Video - October 31, 2018