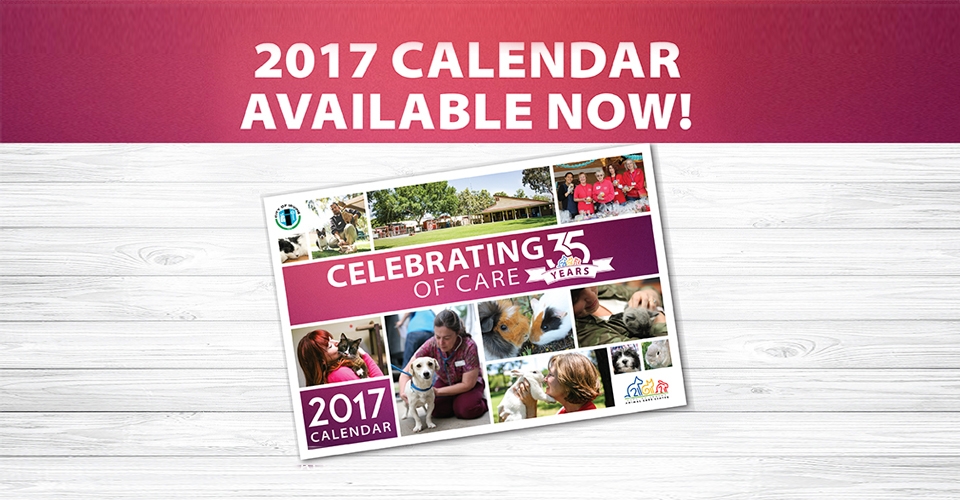 The 2017 Irvine Animal Care Center calendar is here, and it's the perfect gift for any pet lover. The 13-month calendar features photos from the City's "Make Your Pet a Star" contest, and this year's calendar commemorates the Center's 35th anniversary. 
The calendar is $15, and all proceeds go directly to support adoptable pets at the Center. The calendar fundraiser benefits programs such as Third Chance for Pets, which transfers animals from overcrowded shelters to the Center, giving them a better chance for adoption. Funds from sales of this special 35th anniversary edition calendar also support Enhanced Care, which funds medical treatments necessary to help some animals become healthy enough for adoption.
Calendars are available online at the "Irvine Gives" donation website, and at these City facilities: the Irvine Civic Center, Irvine Animal Care Center, Child Resource Center, Lakeview Senior Center, Irvine Fine Arts Center, Orange County Great Park and Woollett Aquatics Center. Click here to order your calendar. For more information, contact the Irvine Animal Care Center at 949-724-7740 or animalcare@cityofirvine.org.