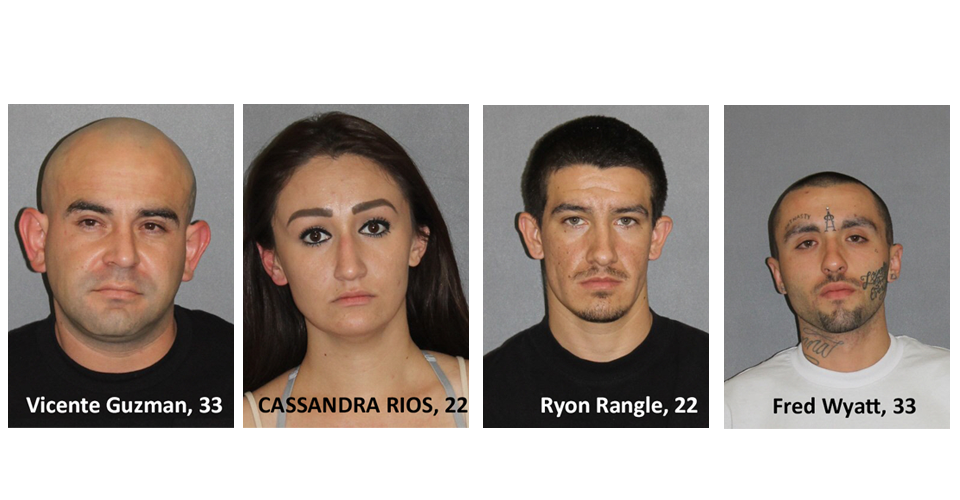 On Thursday, May 18, 2017, just after 7:00 AM, the Irvine Police Department received a call about 2 suspicious subjects accessing a bank of mailboxes in a gated community near Canyonwood and Meadowood.  The resident reported seeing a white Dodge Durango parked illegally with two males accessing the main doors of the mailboxes. The resident thought the activity was suspicious and called police.  When officers arrived on scene, they confirmed that multiple mailboxes had been accessed.
A short time later, an Irvine Police officer located a vehicle matching the description provided earlier by the resident. The vehicle was traveling on the northbound I-5 freeway near Culver and the officer initiated a traffic stop.  There were 4 subjects inside the vehicle along with multiple items of mail from Orange, San Bernardino, and Los Angeles counties.  Also located inside the vehicle were numerous checks and credit cards. 
Vicente Guzman, 33, Ryon Rangel, 22, Fred Wyatt, 22, and Cassandra Rios, 22, were arrested for theft. Anyone with information on this case is asked to call Detective Jameson Roberts at 949-724-7170 or jroberts@cityofirvine.org.
###