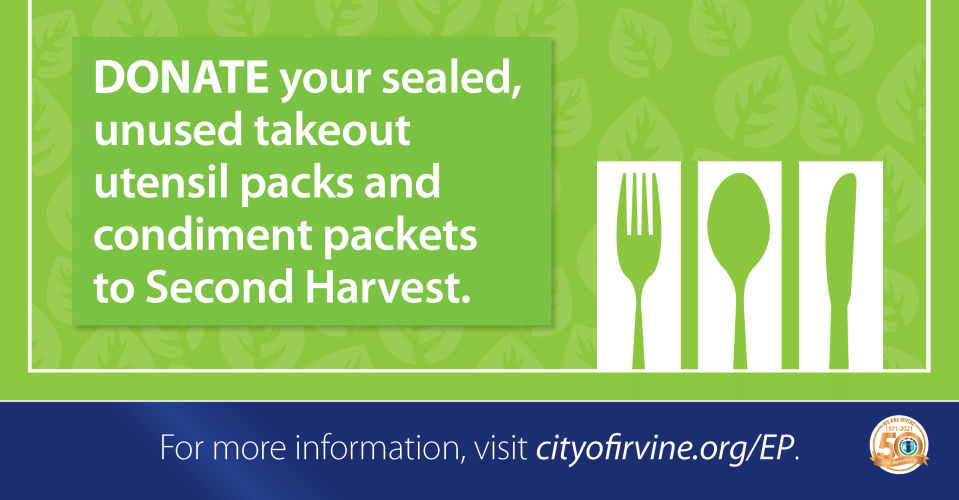 Tuesday, October 26, 2021
Support the environment, and donate unused, sealed plastic utensils and condiment packets as part of the City of Irvine Utensils and Condiments Drive, November 1-December 15.
Many of us have accumulated a lot of unused plastic utensils and condiment packets from takeout and delivery meals as we have supported our local restaurants during the pandemic. The City is partnering with Second Harvest Food Bank Orange County to collect sealed, unused takeout utensil packs and unopened condiment packets that many of us receive but do not need, and put these items to good use. Check your cupboards, desks, and break rooms for these packets and donate them at one of the City's community center locations participating in this drive. All donations will be used by Second Harvest and their partners in their meal programs. 
Drop off your donations at the following Irvine locations:
Irvine Civic Center, 1 Civic Center Plaza
Great Park Visitors Center, 8000 Great Park Blvd.
Lakeview Senior Center, 20 Lake Road
Portola Community Center, 900 Tomato Springs
University Community Center, 1 Beech Tree Lane
Looking for other ways to help?
No Straw November is coming up and America Recycles Day is November 15. Stay green the next time you order takeout, and let restaurants and eateries know that you don't want these items when placing your order. Refuse single-use disposable plastics when dining out, and remember to bring your own reusable utensils and straws to reduce plastic waste.
For more information or questions, contact environmentalprograms@cityofirvine.org.