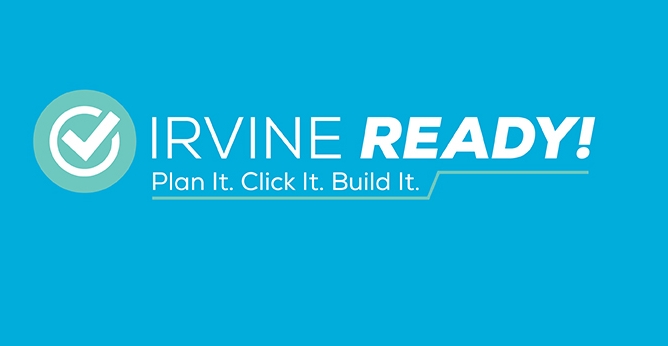 To slow the spread of the Novel Coronavirus (COVID-19), the City of Irvine is taking precautionary measures to help protect the public.  Beginning Wednesday, March 18, Irvine City Hall and the Community Development Counter will be closed to the public. City staff will be available via telephone and email. Community Development services will continue to be offered online as outlined below. 
We appreciate your patience and flexibility as we strive to deliver great service while protecting the health of our customers, our staff, and the general public.  Although we will work to be as responsive as possible during this transition, please allow additional time for plan review, permit issuance and other Community Development Services. 
Plan Check and Permit Issuance
New Project Submittals not outlined in more detail below: All plans must be submitted online though the City's IrvineREADY! system which can be accessed here. 
Paper plans currently in review: If your project is currently under plan review in paper form and has corrections, we will email you a PDF copy of the Correction Report without plans – your resubmittal will need to be electronic through the IrvineREADY! system. If your plans are approved, our Permit Counter Staff will create a digital version of your project for approval. You will be emailed a link to pay fees and upload any additional documents required for permit issuance.
Minor residential permits, previously over-the-counter: (These include residential pool, gas line, patio covers, minor bathroom/kitchen remodels, and commercial re-roof.) Please submit your Application Package through the IrvineReady! Online Plan Submission Portal as indicated below. Due to our current remote work restrictions, these projects will have a target date of two business days. 
Encroachment Permits and Wide Load Permits : Please email your Application Package to rluna@cityofirvine.org and await further instructions. PLEASE PUT THE PERMIT TYPE IN THE SUBJECT LINE. You will be emailed a link to pay fees and upload any additional documents required for permit issuance. 
Solar Photovoltaic Installations for Single Family: (AB1288 - Expedited Electronic Submittal for 10 kW or Less) please CLICK HERE. 
Production Solar from an Approved Solar Master Plan: Please continue to use our Automated Online Service. 
Automated Online Permits Service: Please use the City's Automated Online Permits for the following application types:

Residential Water Heater Replacement
Residential Re-Roof
Residential Air Conditioning Replacement
Minor Residential Electrical/Mechanical/Plumbing
Residential Electrical Vehicle Charging Stations (EVCS) and Panel Upgrades
Commercial HVAC Change Out (like for like only)
Required Documents for Online Submittal via IrvineREADY!
Commercial Projects

Residential Projects

Grading Projects

Entitlement/Planning

Public Works Engineering

Inspections and Code Enforcement Services
Inspections of exterior facilities and unoccupied, unconditioned interior spaces: This includes both residential and commercial construction. In-person inspections can continue with strictly-enforced precautionary measures in place as follows;
 

No face to face contact between inspectors and site personnel. All communication will take place via email, text, or telephone only.
All areas that are subject to inspection must be completely unoccupied and empty. There shall be no personnel in the area including any personnel from builder, contractor, or trades.
Prior to inspector arrival, building plans for the area subject to inspection must be placed on a flat, cleaned surface within or adjacent to the area of inspection.
 

Inspections of interior, occupied, or conditioned spaces: In-person inspections will be suspended for both residential and commercial properties. To the extent possible, inspectors will conduct inspections of these spaces virtually through use of video applications, such as FaceTime, Skype, or WhatsApp. Virtual inspections will be coordinated as necessary by inspectors at the time of appointment.
General Safety Precautions: Builders, contractors, and all personnel working on job sites subject to inspection must abide by COVID-19 precautions as outlined by the Centers for Disease Control.
Helpful Contact Information