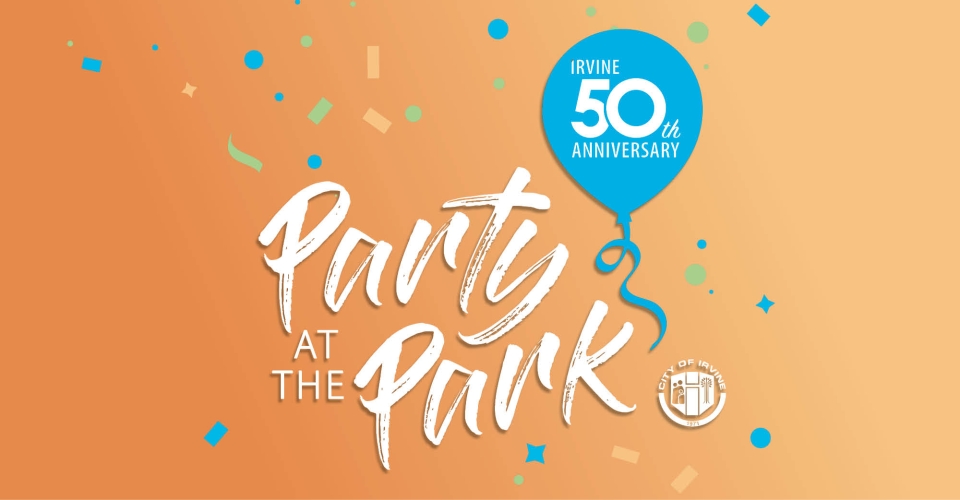 Tuesday, December 7, 2021
The City of Irvine is celebrating its 50th anniversary this year, and the community is invited to Party at the Park: Irvine's 50th Birthday Party. The City was incorporated in 1971, and Party at the Park is the culmination of a year's worth of activities and events honoring this milestone.
Bring your family and friends to Great Park Saturday, December 11, from 2 p.m. to 7 p.m. for a family-friendly evening. There will be music, games, performances, and fun surprises throughout the event.
"This year, we have held numerous community events to celebrate our 50th anniversary," said Mayor Farrah N. Khan. "I'm excited to culminate our anniversary efforts with our birthday party at Great Park. I encourage all of the community to join our celebration and come ring in our golden anniversary at a fun-filled event, including some surprise performances."
Admission is free, and no registration is necessary for this all-ages, family-friendly event. Music on two stages and activities throughout and surrounding the Palm Court Arts Complex will lead up to "Celebration in the Sky presented by FivePoint," a show using more than 100 drones to light up the sky with festive images. The event will also feature:
Live music and DJs all day
Cultural dance performances from local community groups
Crafts and interactive activities
Family fun shows, games, and booths
Food available for purchase with local food trucks on-site
Video montage of the history of Irvine
On-the-ground fireworks displays in multiple locations
Special surprises to celebrate Irvine
During the event, guests are welcome to also enjoy the festive décor of Holidayz at the Park, featuring outdoor holiday lights and an indoor selfie museum with plenty of photo opportunities. The Great Park Carousel will also operate throughout the day. For a complete event program, parking information, and additional details, please visit cityofirvine.org/partyatthepark.
Learn more about the City's 50th Anniversary at cityofirvine.org/50th. Great Park is at 8000 Great Park Blvd., Irvine.