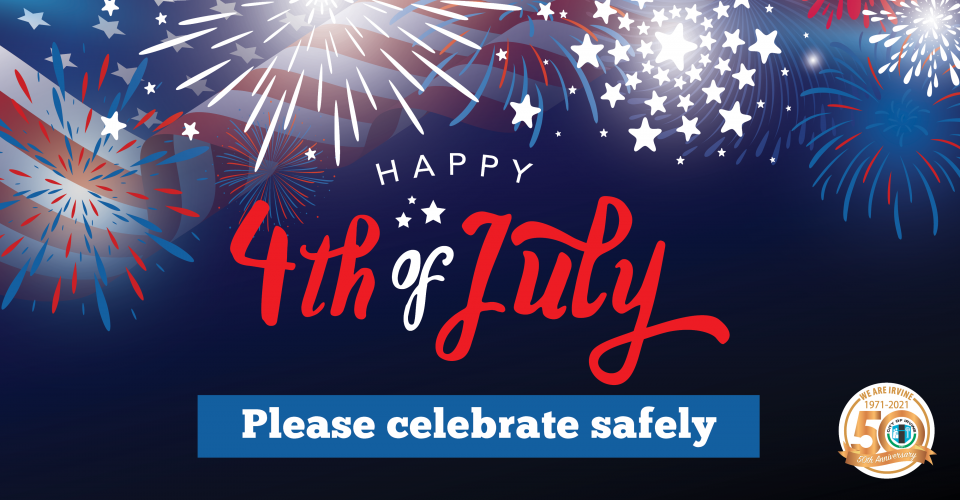 The City of Irvine and the Irvine Police Department (IPD) are reminding residents to enjoy the Fourth of July safely this year by following local rules and COVID-19-related guidance.
Fireworks
Setting off personal fireworks in Irvine is illegal. Instead, enjoy a public fireworks show conducted by trained professionals. To view a list of public firework display shows, visit ocfa.org/fourthofjuly.
Please watch this video from IPD Assistant Chief Michael Kent and Orange County Fire Authority Division Chief Shane Sherwood to familiarize yourself with the dangers of fireworks, the risks they pose, and how to stay safe this holiday weekend:
COVID-19 Safety Guidance
The Centers for Disease Control and Prevention (CDC) recommends delaying travel until you are fully vaccinated. This means waiting two weeks after either your second dose in a two-dose series, or your single-dose vaccine.
If you choose to travel, do so by driving as you will encounter fewer people than traveling by other modes of transportation, such as flying, or riding a bus or train. If you must fly, plan ahead to avoid lines and contact with others by:
Eating a meal before you travel and pack snacks.
Printing boarding passes ahead of time or having them readily available on your smartphone.
Bringing carry-on luggage instead of checking bags, if possible.
Washing or sanitizing your hands frequently and wearing a mask while you travel even if you have been vaccinated.
In addition, you should also limit gatherings by traveling with only those you live with and socialize with others in an uncrowded, outdoor setting. Learn more about safe activities for fully vaccinated people on the CDC's website.