Irvine is proud to be a City that embraces and celebrates diversity and fosters an environment that is inclusive of all cultures, races, ethnicities, genders, sexual orientations, ages, abilities, perspectives, and ways of thinking. Learn more about celebrations and observances the City has highlighted throughout the year below.
See a list of past celebrations and recognitions below. For current celebrations, visit cityofirvine.org/deispotlight.
Rama Navami: April 10
Rama Navami is a Hindu spring festival that celebrates the birthday of Shree Rama, the seventh avatar of Vishnu. On this day, followers pray for peace, prosperity, and success and seek divine blessings.
Palm Sunday: April 10
Palm Sunday, also known as Passion Sunday, is recognized by Christian followers. The day celebrates the entry of Jesus into Jerusalem, which took place a week before his death and resurrection.
Songkran: April 13-15
Songkran is the Thai New Year's national holiday.
Choul Chnam Thmey: April 14-16
Traditional celebration of the solar new year in Cambodia
Pi Mai: April 14-16
Lao New Year is a widely celebrated festival in Laos.
Passover: April 15-23
Passover is a major Jewish holiday that celebrates the exodus of the Israelites from slavery in Egypt. Passover is celebrated by Seder meals that include drinking four cups of wine, eating matzah and bitter herbs while retelling the story of the Exodus.
Easter: April 17
Easter is a Christian festival and holiday commemorating the resurrection of Jesus from the dead. The resurrection is said to have occurred three days after Jesus was crucified by the Romans. The day is celebrated by attending church services, and spending time with family.  
Mahavir Jayanti: April 22
One of the most important religious festivals in Jainism, it celebrates the birth of Mahavir, the 24th and last Tirthankara of present Avasarpini. 
Orthodox Easter: April 24
Eastern Orthodox celebration of the resurrection of Jesus Christ.
Ramadan: April 1-May 1
Ramadan is a holy month of fasting, introspections, and prayer for Muslims, the followers of the Islam religion. It is believed during this month Muhammed received initial revelations of the Quran, the holy book of Muslims. Each day during Ramadan, Muslims do not eat or drink from dawn to sunset.
Maundy Thursday: April 14
Maundy Thursday, also known as Holy Thursday, is the day during the Christian Holy Week that commemorates the last supper of Jesus Christ with the Apostles. This day falls just before he was crucified and resurrected on Easter Sunday.
Good Friday: April 15
Good Friday is a Christian observance held two days before Easter Sunday. It commemorates the crucifixion of Jesus Christ. 
Gathering of Nations: April 21-23
More than 500 Native tribes meet to celebrate tribal traditions and cultures.
Armenian Genocide Remembrance Day: April 24
From 1915 to 1923, the Armenian genocide claimed the lives of 1.5 million men, women, and children. The Irvine City Council has proclaimed April 24, Armenian Genocide Remembrance Day. We honor and remember the individuals who lost their lives, as well as those who survived this horrific tragedy. As we join with those around the world in mourning what has been lost, we reaffirm our commitment to ensuring we eliminate all forms of hate so that this never happens again.
Laylat al-Qadr: April 22
Islamic belief that the night the Quran was first sent down from heaven.
Autism Awareness Day & Month: April 2
Every April is World Autism month, and April 2 is Autism Awareness Day. Autism spectrum disorder refers to a broad range of conditions characterized by challenges with social skills, repetitive behaviors, speech, and nonverbal communication, affecting 1 in 44 children in the United States. The City of Irvine's Disability Services team provides support to individuals with sensory, physical, or cognitive disabilities and their family members in the Irvine community. These services include social recreational programming, inclusion and accommodation support, and resources and referrals. To learn more about available services and upcoming programs, visit cityofirvine.org/disabilityservices.
Denim Day: April 27
Denim Day takes place on the last Wednesday of April, which is Sexual Assault Awareness Month. On April 27 this year, people are encouraged to wear denim to combat victim blaming and educate others about sexual violence. 
Visit demindayinfo.org to learn more about the significance of denim and how you can participate in addition to wearing jeans April 27.  
The Irvine Police Department's Victim Services unit offers specific resources and support services to victims of sexual assault and violence. Visit their website to be connected to a resource guide and services that can help if you are experiencing sexual abuse.  
Community Safety Meeting
The Irvine Police Department (IPD) and South Coast Chinese Cultural Center will host an annual Community Safety Meeting April 23, from 10 a.m. to noon at South Coast Chinese Cultural Center (9 Truman Street, Irvine). This is a collaborative effort between the IPD and the Asian Americans and Pacific Islanders (AAPI) community. Join as IPD Chief Michael Kent and a number of multi-ethnic police officers and AAPI community leaders discuss concerns about safety in our community and answer questions. 
Spring Around the World
Thank you to all who joined us for Spring Around the World, a celebration of springtime cultural holidays and traditions, April 2 at Great Park! We loved celebrating with residents, community members, family, and friends. The event was a meaningful, inclusive celebration that incorporated the best of Irvine's diverse heritages offering a wide variety of multicultural food options, interactive and educational spring activities, live performances, and art exhibitions.
           View Photos from Spring Around the World
Women's History Month
Women's History Month began as a national celebration in 1981 when Congress passed Pub. L. 97-28, which authorized and requested the President to proclaim the week of March 7, 1982 as "Women's History Week." 
Throughout the next five years, Congress continued to pass joint resolutions designating a week in March as "Women's History Week." In 1987, after being petitioned by the National Women's History Project, Congress passed Pub. L. 100-9, designating the month of March as "Women's History Month."  
Between 1988 and 1994, Congress passed additional resolutions requesting and authorizing the President to proclaim March of each year as Women's History Month. Since 1995, every U.S. president has issued a proclamation designating the month of March as "Women's History Month." 
This year's theme for Women's History Month is "Providing Healing, Promoting Hope." 
Celebrate Women in History
The National Women's History Alliance is a leader in promoting women's history and is committed to the goals of education, empowerment, equality, and inclusion. 
Read the latest edition of their magazine to learn about important female figures in our nation's history who have provided healing and promoted hope to advance the rights and power of women around the country. 
Celebrate Locally
Join Irvine Valley College (IVC) for a variety of academic and cultural events. These events are open to Irvine Valley College students only.   
Celebrate the women making history, as recognized by the University of California, Irvine. Read about powerful women who are shaping our community. Learn more. 
Changing the Label
Hershey's chocolate bar has released a limited-edition "Celebrate She" bar, which is available in stores across the country. 
The new look features an eye-catching new label. 
Mental Health Awareness
On March 9, U.S. Secretary of Health and Human Services Xavier Becerra met with City of Irvine officials about our nation's mental health crisis, and how to strengthen the mental health and crisis care systems in our communities.
March Significant Dates & Recognitions
Irish American Heritage Month & St. Patrick's Day
Irish American Heritage Month is celebrated in March to honor the achievements and contributions of Irish immigrants and their descendants living in the United States.

Additionally, March 17 is St. Patrick's Day. 
This day honors St. Patrick, patron saint of Ireland and the legacies he left on the country.
 
Deaf History Month
National Deaf History Month is recognized and celebrated every year from March 13 to April 15 to recognize the accomplishments of people who are deaf and hard of hearing. The City's Disability Services team provides support to individuals with disabilities and can provide accommodation services to ensure appropriate and equitable program opportunities and accessible uses. Similarly, during City meetings, assistive listening devices are available to the public upon request.  
Fat Tuesday & Ash Wednesday: March 1 and March 2
Ash Wednesday marks the official beginning of Lent, a period of prayer, fasting, and repentance that the Catholic and Christian religions observe, which falls 40 days before the Easter holiday. Fat Tuesday, therefore, is the day before Ash Wednesday, where many indulge in foods and behaviors that they may choose to abstain from during the Lent period.
Lailat al Miraj: March 1
Lailat al Miraj is a Muslim holiday that commemorates the Prophet Muhammad's nighttime journey from Mecca to the 'Farthest Mosque' in Jerusalem where he ascended to heaven, was purified, and given the instruction for Muslims to pray five times daily.
Purim: March 16
Purim is a Jewish holiday which commemorates the salvation of Jewish people in ancient Persia. It is a celebration of unity, family, togetherness, and triumph over adversity.
Holi: March 18
Holi is a popular Hindu holiday celebrated largely by the Indian culture. 
Also known as the "Festival of Colors," the "Festival of Love" or "Festival of Spring," the day celebrates the triumph of good over evil and the changing of the seasons from winter to spring.
 
Mid-Sha'ban: March 18
This Muslim holiday is a night when people's fortunes are decided for the coming year, and when sins may be forgiven.
Nowruz: March 20
The Nowruz festival marks the Persian New Year and is celebrated on the spring equinox. The holiday is recognized and celebrated by honoring the cultures and friendships that make up the Persian community. Those who celebrate count their blessings this day and welcome the grand possibilities for a new year.  
Celebrate the Persian New Year with Pretend City Children's Museum. Visit March 23 to explore and celebrate the Persian New Year through activities, art, and story time. Visit pretendcity.org/events/persian-new-year/ for more information. 
World Down Syndrome Day: March 21
World Down Syndrome Day is celebrated on March 21 to raise awareness of Down syndrome, a genetic chromosome disorder in which a person has an extra 21st chromosome. People with Down syndrome have three copies of the 21st chromosome, making March 21 a fitting day to raise awareness of members of this community. 
Rock Your Socks: The Rock Your Socks campaign invites people to wear brightly colored mismatched socks to recognize World Down Syndrome Day. Socks were chosen as a way for all to participate because the set of Down Syndrome chromosomes resembles mismatched socks. City of Irvine staff participated in recognizing this day:
          
Autism Night at Pretend City Children's Museum: Visit Pretend City Children's Museum March 24 from 5 to 7 p.m. for Family Autism Night. This evening is an opportunity for neurodivergent children and their families to enjoy the museum in a whole new way – as they will dim the lights and turn off the museum sounds. While you play and build connections, their community partners will be on hand to enrich each family's play experience with practical support as needed. This event is limited to 250 participants. RSVP and learn more about the event here. 
Vietnam War Veterans Day: March 29 
In 2017, March 29 officially became National Vietnam War Veterans Day. More than 11,000 commemorative partners conduct events in their local communities throughout the year to recognize Vietnam veterans and their families. Learn more about events happening in our area to recognize Vietnam War veterans day by clicking here. 
César Chávez Day: March 31
Cesar Chavez Day honors the life and legacy of the civil rights and labor movement activist who founded the National Farm Workers Association (later the United Farm Workers of America).

The day is commemorated through education, celebrations, and service projects.
 
February Celebrations and Recognitions
Holocaust Remembrance
International Holocaust Remembrance Day, January 27, marks the anniversary of the liberation of Auschwitz-Birkenau in 1945. We remember and honor the victims and survivors of the Holocaust and we reaffirm our unwavering commitment to counter antisemitism, racism, and intolerance. 
We encourage you to take a moment to learn more about the Holocaust. Visit the Holocaust Museum L.A. and the United States Holocaust Memorial Museum for additional information including stories from Holocaust survivors.
UCI Libraries is one of 50 U.S. libraries selected to host the traveling exhibition "Americans and the Holocaust." It will be on display from February 2 to March 9. Details at lib.uci.edu/americans. 

Join Author Deborah Lipstadt Wednesday, February 16 from 12-1 p.m. via Zoom for an Author Talk in coordination with UCI Libraries. Lipstadt will discuss her latest book Antisemitism: Here and Now, a captivating analysis of current political trends that bolster prejudice and hostility towards Jews in today's world. RSVP for the event. 
Lunar New Year
February 1 is Lunar New Year! Also known as Chinese New Year or Spring Festival, Lunar New Year traditionally lasts for 16 days. The date of the Lunar New Year changes every year, decided by the lunar calendar and based on the cycles of the moon and sun. 
This year is the Year of the Tiger. People born in the Year of the Tiger are known to be brave, competitive, unpredictable, and confident. 
Local Events and Celebrations
Irvine Fine Arts Center Artist Talks
Join the City of Irvine for a series of upcoming Artist Talks in support of the current exhibitions at the Irvine Fine Arts Center, Mirror and Terrain. Learn about the inspirations, processes, and artist backgrounds that inspired the works on view in the exhibits. 
Each talk will be held on Zoom, and advanced registration at yourirvine.org is required. Learn more about our winter exhibitions at irvinefinearts.org. Learn more.
Black History Month
Tuskegee Airmen
The Tuskegee Airmen were the first Black military aviators in the United States Armed Forces. During World War II, they flew more than 15,000 sorties and their heroic missions earned them distinguished honors.
On January 16, 2022, General Charles McGee, one of the last surviving Tuskegee Airmen, died at the age of 102. Throughout his 30 year military career, McGee flew 409 combat missions in World War II, the Korean War, and the Vietnam War.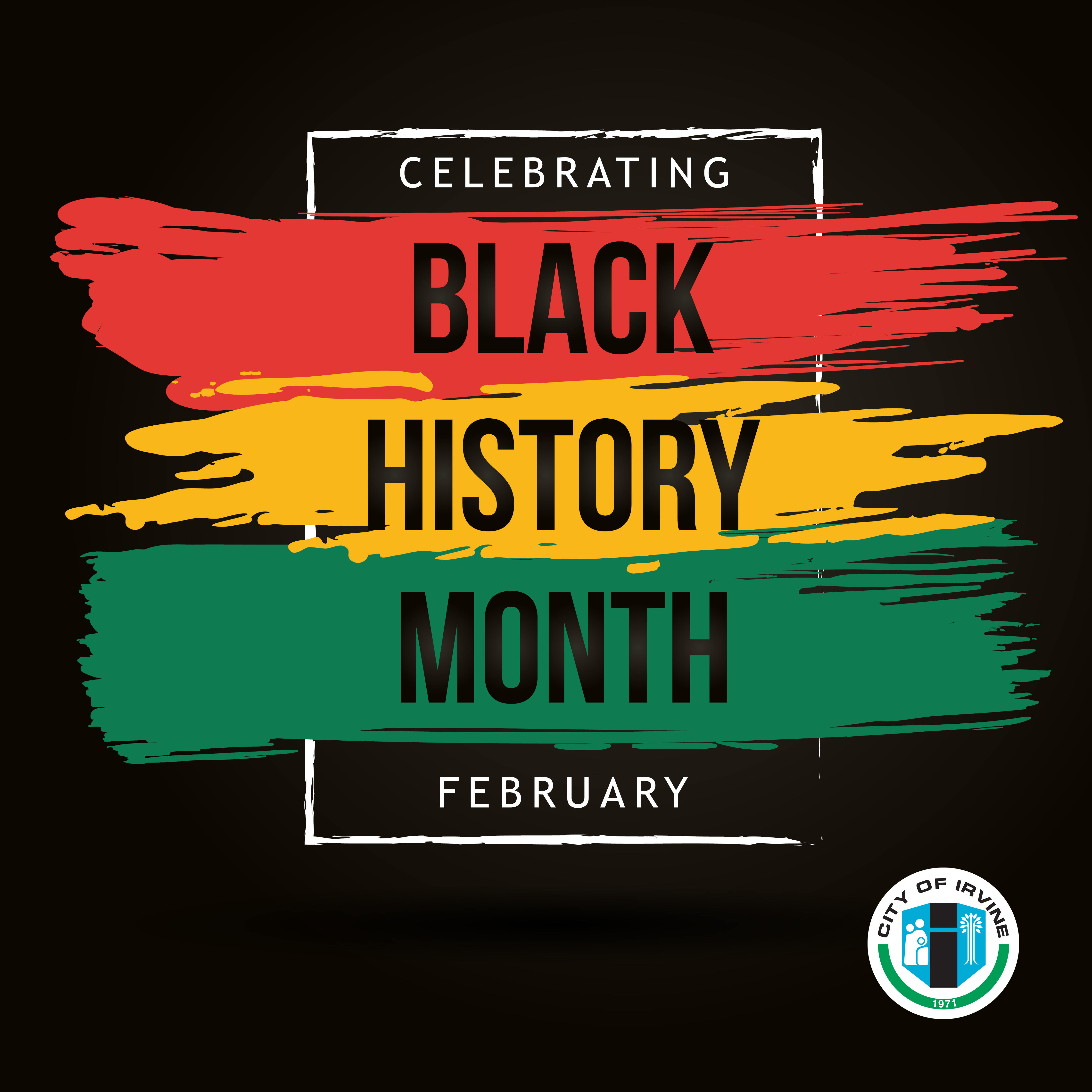 He received numerous accolades throughout his career, including the Congressional Gold Medal in 2007.
Another member of the Tuskegee Airmen, Lt. Col. Robert J. Friend, was an Irvine resident from 1972 until his passing in 2019. In 2012, he shared his experiences as a Tuskegee Airman Red Tail Combat Pilot with ICTV. You can hear him tell his story on the City's YouTube channel.  
Great Park Gallery Exhibition
In recognition of Black History Month, visit the Great Park Gallery to view 52nd Street: Jazz and the Photography of William Gottlieb.  
Manhattan's 52nd Street formed a hub of musical creativity in the years immediately following World War II. It was here where legacies were created giving recognition to musicians such as Dizzy Gillespie, Thelonious Monk, Ella Fitzgerald, and other emerging jazz geniuses of the era.  
The exhibition will feature photographs and rare documents archiving this pivotal and exciting moment in American culture, captured by photographer and columnist William Gottlieb, and will be accompanied by Jammin' in the Palm Court, a three-part live jazz series.  
O.C. Black History Parade and Unity Festival
Irvine Mayor Farrah N. Khan — along with Diversity, Equity, and Inclusion (DEI) Committee Chair Amil Aaron, local business Rivian Automotive, and Portola Springs High School student and basketball player Makai Brown and his family members — represented the City at the 42nd annual O.C. Black History Parade and Unity Festival in Anaheim. Irvine was proud to see its community members and businesses come together to celebrate National Black History Month at this important local event.
#WomenWhoPlay Jazz: A Virtual Play Series
In honor of Black History Month, the Lilly Theatre Company held a virtual original play and live panel discussion about Terri Lyne, a renowned drummer invested in social justice, as part of the #WomenWhoPlay Jazz Virtual Play Series, throughout the month. The Lilly Theatre Company is a nonprofit designed to support the military and student theater and music community, while encouraging diverse representation within the arts. Learn more here.
Founders Day at Christ Our Redeemer Church
Christ Our Redeemer Church celebrated Founders Day February 13. This celebration recognizes the founder of the African Methodist Episcopal Church, Richard Allen. 
The theme was "A Reflection of our Past: a Celebration of the African Methodist Episcopal Church." The event featured music and opportunities to learn about the rich history and impact of Richard Allen and the African Methodist Episcopal Church in America. Christ Our Redeemer Episcopal Church is located at 45 Tesla, Irvine. Learn more. 
Orange County Fair Board Flies Pan African flag
The Orange County Fair Board recently voted to adopt a policy to fly the Pan African flag at OC Fair & Events Center each February in recognition of Black History Month. 
A flag raising ceremony took place February 1. Read the full resolution. 
UCI Black Thriving Initiative
University of California, Irvine (UCI) celebrates Black History Month with many events throughout the month of February. 
These include:
Panel discussions;
Performances;
Film screenings; and
Recognitions at sporting events.
Please visit UCI's website to view information about each event and to RSVP or purchase tickets. 
Irvine Valley College Expresso'Self! Event 
In honor of Black History Month's 2022 theme: Mental Health and Wellness in the Black Community," join Student Equity and Billboard charting spoken word artist Ty Scott King for a thought-provoking poetry event via Zoom. 
The event will be held Wednesday, February 16 from 2 to 3 p.m. Register here. 
January Celebrations and Observances
Emancipation Proclamation 
January 1 marks the date President Abraham Lincoln enacted the Emancipation Proclamation, which declared "that all persons held as slaves" within the rebellious states "are, and henceforward shall be free." 
The Emancipation Proclamation did not end slavery in the nation due to limitations of the order, which only promised freedom dependent upon United States military victory during the Civil War. It did, however, mark a significant change to the reason behind the war — a war for freedom. 
You can read more about the Emancipation Proclamation and view images of the document on the National Archives website. 
Korean American Day
Korean American Day on January 13th commemorates the arrival of the first Korean immigrants to the United States in 1903. 
In 1882, the United States and Korea signed a treaty establishing a peaceful relationship, friendship, and commerce. While this led to Korean diplomats, students, politicians, and businessmen visiting the United States, few felt compelled to stay. It wasn't until December of 1902, on the SS Gaelic, that 102 Korean immigrants set sail for Honolulu, Hawaii. These families initiated the first wave of Korean immigration, resulting in more than 7,500 immigrants over the next two years. This day honors and celebrates Korean Americans' immense contributions to every aspect of society.
Makar Sankranti or Maghi
Like languages, so many religions are practiced in Irvine. In Hinduism, Makar Sankranti, also known as Maghi or Makara Sankranti is an important Hindu religious and harvest festival that celebrates the sun's journey back into the northern hemisphere and is considered a highly positive event.
Makar Sankranti is marks the first day when the sun is transiting into Capricorn, also known as Makara in Hindi. 
Dr. Martin Luther King Jr. Day
Martin Luther King Jr. Day is a holiday in the United States honoring the achievements of Martin Luther King Jr., a Baptist minister and civil rights leader who advocated for nonviolent resistance against racial segregation.
International Holocaust Remembrance Day
This day is the anniversary of the liberation of Auschwitz-Birkenau and honors the 6 million Jewish victims of the Holocaust and millions of other victims of Nazism. 
U.S. Naturalization Ceremony 
As a City committed to diversity, equity, and inclusion, we are proud to have hosted the U.S. naturalization ceremony Thursday, December 2, at Great Park.
The U.S. Citizenship and Immigration Services naturalized 30 U.S. citizens from 30 different countries as part of the 30th anniversary of the United States Citizenship and Immigration Services Asylum Corps. We are honored to have our Great Park chosen as a host location for the momentous occasion.  
December Celebrations & Observances
International Day of Persons with Disabilities (December 3)
December 3 is International Day of Persons with Disabilities, and this year's theme is "leadership and participation of persons with disabilities toward an inclusive, accessible, and sustainable post-COVID-19 world." The City's Disability Services team provides support to individuals with sensory, physical, or cognitive disabilities, and their family members. Support services include social recreational programming, inclusion and accommodation support, and resources and referrals.
You can request accommodation services while participating in Irvine classes, activities, and programs by contacting Disability Services at ids@cityofirvine.org or 949-724-6637. Learn more at cityofirvine.org/ds.
Pearl Harbor Remembrance Day (December 7)
This day is observed annually to remember and honor the 2,403 service members and civilians who were killed during the Japanese attack on Pearl Harbor December 7, 1941. You can watch the City's Veterans Day Ceremony to learn more and recognize those who served during this time.
National Human Rights Month (December 10 & Monthlong)
National Human Rights Month is observed December 10. This day, and the entire month recognizes National Human Rights Month. This month and every month to follow, everyone in the United States is encouraged to come together and stand up for equality, justice, and the dignity of all humans.
World Arabic Language Day (December 18)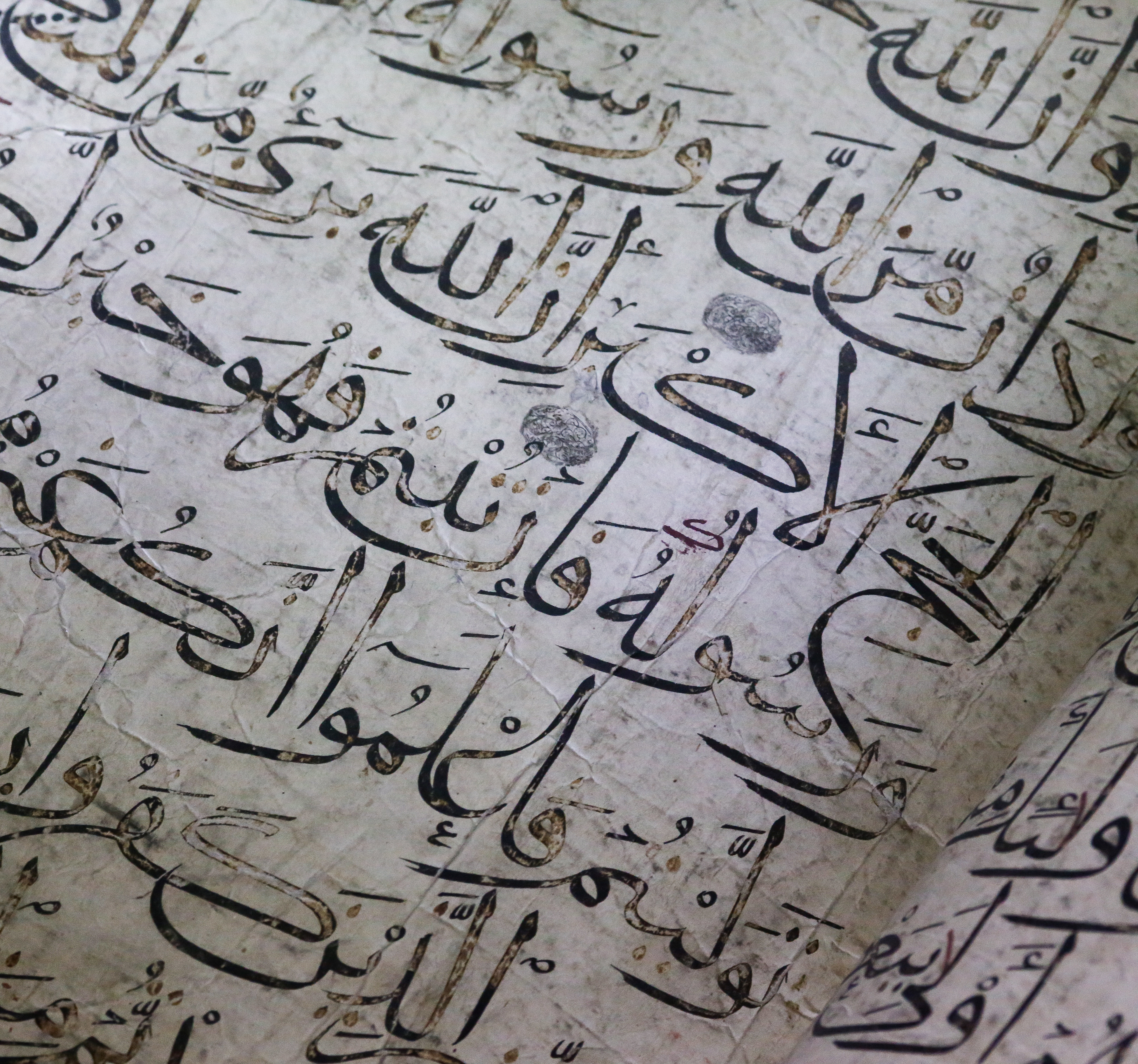 World Arabic Language Day is celebrated every year December 18. The Arabic language is a pillar of the cultural diversity of humanity. It is one of the most widely spoken languages in the world, used daily by more than 400 million people. This year's World Arabic Language Day theme "Arabic Language, a bridge between civilizations" is a call to reaffirm the important role of the Arabic language in connecting people through culture, science, literature and many more domains.
Winter Holidays from Around the World (Ongoing)
Visit the Winter Holidays from Around the World display on the first floor of Irvine City Hall to learn more about the various holidays that are celebrated by the Irvine community during this time of year. Learn about Hanukkah, Christmas, Kwanzaa, Winter Solstice, Lunar New Year, and Las Posadas. You can read about each holiday and view different materials that are used in local celebrations.
Native American Heritage Month & Day of the Dead (November)
Native American Heritage Month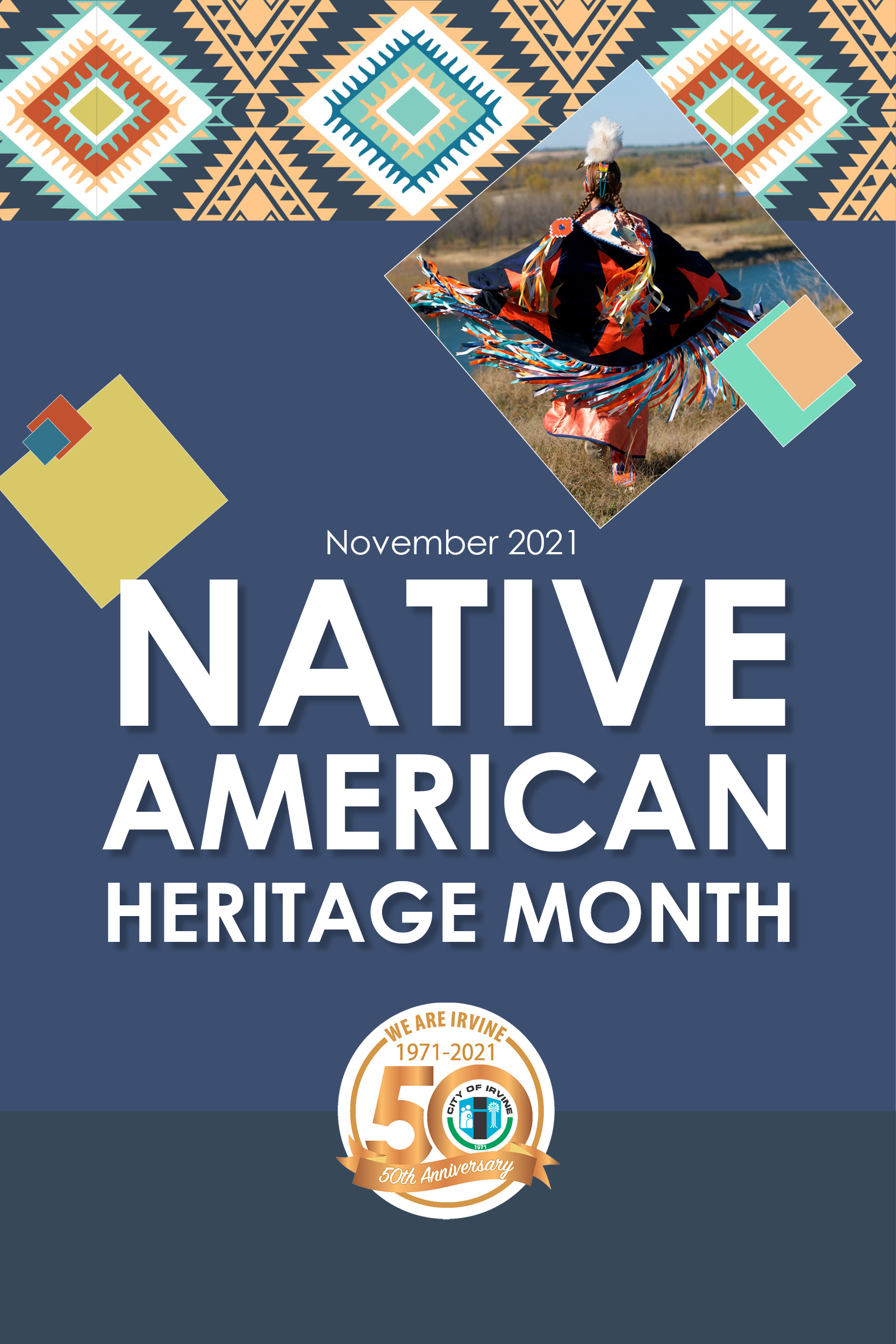 November is Native American Heritage Month. The month is a time to celebrate rich and diverse cultures, traditions, and histories and to acknowledge the important contributions of native tribes in Orange County and indigenous people worldwide. Native American Heritage Month is also a good time to learn about tribes and raise awareness about the unique challenges Native Americans have faced, both historically and in the present, as well as the ways in which tribal citizens have worked to conquer these challenges.
The original inhabitants of Orange County and the surrounding areas are the Gabrieleño (or Gabrielino) Indians and the Juaneño Indians. The Gabrieleño were given this name by the Spanish, because they were named after the San Gabriel Mission, but they call themselves Tongva. The Juaneño, named by the Spanish after the San Juan Capistrano Mission, call themselves Acjachemen.
You can learn more about these Native American people at the links below:
Local Artifacts
Portola Springs Community Center, located at 900 Tomato Springs, features a Native American Wing. The area houses cultural and historical artifacts which pay homage to the Native American tribes who once inhabited the Portola Springs area.  
Just outside the community center, nearby trails are home to native plants like the coastal prickly pear which has been known to be a food and medicine source for Native Americans, as well as a source of needles, containers and water. 
Visit the Portola Springs Community Center to view the artifacts. The center is open Monday–Friday: 9 a.m.–9 p.m.; Saturday: 9 a.m.–10 p.m.; and Sunday: Noon–6 p.m.
Connect with Nature & Native American History
Celebrate Native American Heritage Month by exploring the native plants on the Irvine Open Space Preserve. If you take a hike on Bommer Canyon, you'll see acorns from Oak trees and black sage, which Native Americans gathered and ground into meal.
You may not want to come across Poison Oak on your walk, but the Native Americans did. They used the stem juice from the plant to dye their baskets black.
Learn more about the Irvine Open Space Preserve and plan a visit today.
Dia de los Muertos
Although Dia de los Muertos, or Day of the Dead, is celebrated widely throughout Latin American countries, its roots trace back to indigenous traditions. Dia de los Muertos recognizes death as a natural part of the human cycle of life where, for three days, the dead return and are once again part of the community. Altars and offerings are put out to help awaken the deceased from their sleep and share in the celebration with their families and loved ones. In the state of Guerrero, Mexico, the Tlapaneca People offer their deceased adults mole, tamales, and mezcal as offerings. In Veracruz, Mexico, the Totonac peoples consider the altar a small world: earth is represented by the flowers and vegetation, water is placed under the altar, the sky is made out of tepejilote leaves, and the sun is made with coyol palm leaves.
Hispanic Heritage Month (September 15-October 15)
National Hispanic Heritage Month is celebrated annually from September 15 to October 15 to recognize the contributions and influence of Hispanic Americans to the history, culture, and achievements of the U.S. 
Manos, an exhibition at the Irvine Fine Arts Center, features sculptural works by José Flores Nava and paintings by Kiara Aileen Machado that share a proposition that sustenance is both a physical and emotional requisite of daily life. 
Nava's works detail fruits and vegetables native to the Americas, and Machado's delicately rendered paintings of familial figures and fauna from her family's native El Salvador and Guatemala, converge to hold homage and space to what nourishes them. You can view their work online here, or visit the Irvine Fine Arts Center through December 18 to view the exhibition in person. 
If you would like to learn more about the artists, read their biographies.